Xcel lawsuit chronicles Louisville neighbors' Marshall Fire tragedies
BOULDER COUNTY — A new lawsuit — one of a growing list brought against Xcel Energy Inc.  in the aftermath of an official report that laid a portion of the blame for the cause of the devastating Marshall Fire at the feet of the utility — filed this month by a group of nearly two dozen Louisville neighbors offers a detailed, and at times harrowing, glimpse into the alleged toll  the blaze took on members of the community. 
A college student in Vermont "lost almost all of her personal belongings when her childhood home burned," and her academic performance suffered, the lawsuit claims. A couple was diagnosed with depression. A "beautiful garden" beside a 30-foot-tall maple tree was razed. A professional violinist's instrument was destroyed. A pair of retirees "were forced to
live in five different places" after their home was lost. Sibling children "stopped gaining weight for over a year after the fire and dropped precipitously in their growth charts."
In an email to BizWest, plaintiff attorney Matthew Preusch, a partner at Keller Rohrback LLP, said, "For our clients, the Marshall Fire was likely the most traumatic experience of their lives. Each of them has a story to tell, and we think it's important to advocate for our clients by telling those powerful stories in what we submit to the court on their behalf."
The plaintiffs, who include several minors identified only by their initials, are "all residents of the devastated Cornerstone neighborhood" in Louisville, said the complaint, filed in Boulder County District Court.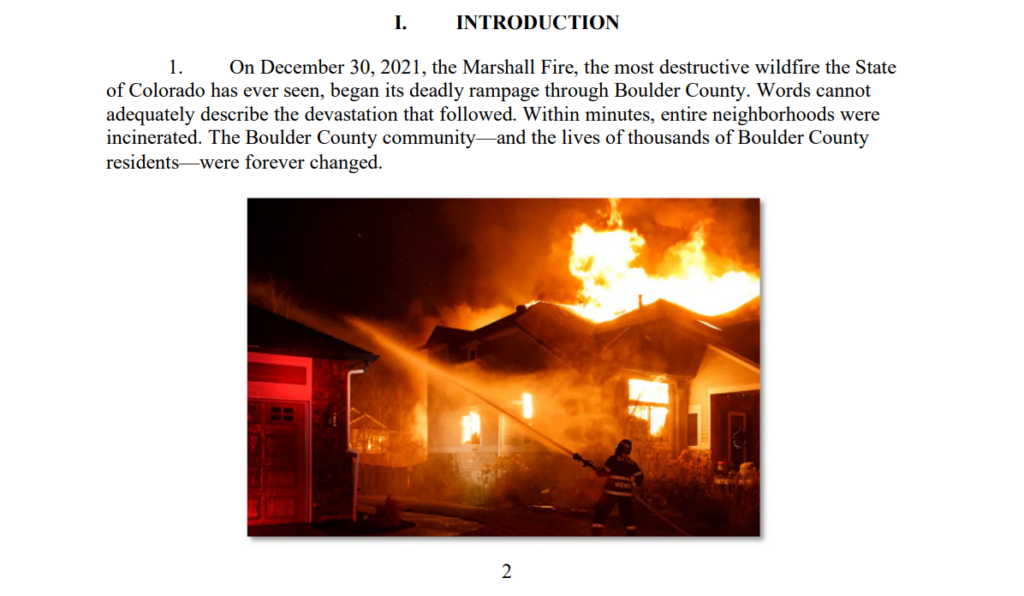 The lawsuit comes about three months after Boulder County Sheriff's Office investigators determined that the Marshall Fire, which killed two people, had two root causes: high winds that uncovered a smoldering, days-old fire at the residence of the Twelve Tribes religious group, members of which live at a compound at 5325 Eldorado Springs Drive in Boulder County, and a malfunctioning Xcel powerline that became "unmoored" during the windy day on Dec. 30, 2021.
Residents of the Twelve Tribes home burned material in a yard on Dec. 24, a week prior to the start of the Marshall fire, buried it and assumed that the flames were extinguished, investigators said.
Twelve Tribes is an international organization with several thousand members that has been accused by past members of labor exploitation, child abuse and racist teachings.
Soon after the high winds on Dec. 30, 2021, transformed the smoldering material into a blaze at Eldorado Springs Drive, "hot particles discharged from an Xcel Energy powerline" several thousand feet away from the initial fire and started a new blaze in a grassy area," Boulder County Sheriff Curtis Johnson said last month. Investigators found that this line malfunction was likely not related to the Eldorado Springs Drive residential fire; however, the two blazes quickly converged and together started the Marshall Fire.
"Xcel Energy was aware of the weather and high wind warnings ahead of Dec. 30, 2021. It knew that it was critical to manage and safely operate power lines in the face of fire risk that could emerge anywhere in Colorado, particularly in the right conditions," this month's lawsuit alleges. "Despite knowledge of these weather warnings, Xcel chose not to shut down the power or adjust the circuit or recloser settings."
Not only was Xcel at least partially responsible for the origin of the blaze, the lawsuit claims that the utility hampered investigators' efforts to get to the bottom of the Marshall Fire's causes.
"(T)he Boulder County Sheriff and District Attorney both say Xcel worked to delay the investigation and block investigators," the complaint said. "… Xcel's actions run afoul of the national guidelines set forth in the National Fire Protection Association 921 Guide for Fire and Explosion Investigations, which provide that 'every attempt should be made to protect and preserve the fire scene because evidence could easily be destroyed or lost in an improperly preserved fire scene.'"
Furthermore, Xcel, representatives of which did not respond to a request for comment Tuesday, should know from experience how to behave in the aftermath of a devastating blaze, the complaint claims.
"This was not the first time Xcel lines started a fire. In 2003, during a windstorm in a period of extreme dryness, an Xcel line sparked a wildfire, known as the Overland Fire, that burned at least 18 houses and 3,500 acres in Boulder County. In 2007, five died in the Cabin Creek Fire started by Xcel's equipment," court documents said. "Then, in 2020, Xcel reported that its power and transmission lines sparked 647 fires in areas of Colorado at high risk for wildfire. And yet, when it learned of extreme wind and dry conditions, Xcel left its systems unaltered and at full power, sparking the most devastating fire in Colorado history."
The lawsuit is Hughes et al. v. Xcel Energy Inc., case number 2023CV30605, filed Aug. 25, 2023, in Boulder County District Court.
Source: BizWest