WICHE marks 70 years of workforce development
BOULDER — A multi-state and territory collaboration, now 70 years old, continues to address the same issues that spawned its formation in 1953: workforce development that meets the economic needs of member states.
Known as WICHE, the Western Interstate Commission for Higher Education, the organization now includes 15 states and five Pacific island nations or territories.
Each year, the organization, now one of four in the United States, contributes $583.1 million in savings to students wanting to attend college out of state. Others compacts exist in New England, the South and the Midwest.
"We were formed in the early 1950s by (eight) western states seeking to increase access to high quality higher education in the West," said Demi Michelau, the organization's president. President Dwight Eisenhower signed the law that enabled the compact between the original states, which included Colorado.
"The goal then and today was to bring states together around regional collaboration. We have rural states that don't have the ability to provide education as other states might in the region," she said. She cited Wyoming as an example of a state where students do not have access within their state to a medical school, but through WICHE those students have multiple options.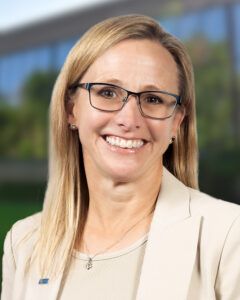 The organization offers numerous programs and services, but first out of the box was the Professional Student Exchange Program. In the PSEP program, states allocate dollars to pay the tuition of students entering 10 selected fields where the workforce is lacking. Health care is the prime example.
In its first year, 61 students benefited from the funding. In the 2022-23 school year, 559 students were enrolled. Fifty-three of those students attended the Colorado State University veterinarian medical program.
Participating states ponied up $14.2 million in order to pay student costs last year. Those students, if they completed their training, saved between $34,900 and $136,700 in educational costs, depending on the discipline that they chose, Michelau said.
"It's very expensive to run some of these programs. States with lower populations still have workforce needs."
WICHE also offers two other student access programs. In 1981, the organization added the Western Regional Graduate Program, which last year enrolled 3,269 students and saved each student on average $14,700.
The Western Undergraduate Exchange, added in 1988, enrolled 46,110 students last year and saved each student on average $11,294. Under the undergraduate program, students from the member states pay tuition equal to in-state tuition for the school or up to 150% of in-state tuition, but not the much higher out-of-state tuition.
The programs help states to share educational resources so that not every state needs to build academic programs to meet specific economic needs.
While states agree to participate through the compact, institutions within states do not. Most public universities do, but not all.
"It's a way for institutions to attract students who might not otherwise come there, to diversify their student bodies," she said.
Some choose to participate just in some programs — those that aren't already filled, for example. Participation enables the institution to keep programs going when there aren't enough local students to justify continuing them, she said.
"We provide a lot of autonomy to institutions in how they participate. Not all Colorado schools participate. They use criteria such as their student body, fiscal needs, and other criteria in their decisions," she said.
In addition to student access programs, WICHE operates multiple additional services. Early on, Michelau said, the founders believed that to attend college required good mental health. So, in 1955, they established a behavioral health unit with a focus on development of mental health professionals in the West. The program also offers suicide prevention resources, mental health technology transfer and programs for veterans.
The 501(c)3 nonprofit also serves as a data resource for educators, administrators and legislators.
"Our role is to be the convenor, to bring people together to solve problems. If a state has a workforce issue, we convene, we provide research, access to data, information about whether other states have faced similar issues and try to solve problems that way.
She cited Wyoming, which is working "in a thoughtful and strategic way to build a resilient workforce and economy" as the state and nation transitions away from traditional carbon sources of energy to renewable sources. WICHE helps provide information and bring people together, including the University of Wyoming, to discuss strategies.
"We would never go in and tell a state what to do but bring tools to help them make decisions," she said.
In Colorado, the primary workforce issue she's hearing centers around nursing, health care and needs for additional educators. "Those are not unique to Colorado; it goes beyond the West, but those two (health care and education) generally rise to the top."
WICHE was first headquartered in Eugene, Oregon, but was lured away by the offer of free office space in Boulder at the University of Colorado. Later, the organization rented space and now owns a building that it shares with a couple of other higher-education organizations.
It has a budget of about $14 million plus another $14 million that is a pass-through from the states to fund the Professional Student Exchange Program. Of the base budget, about 25% comes from the participating states and the remainder from grants, contracts and other memberships, she said.
Source: BizWest