Voodoo Doughnut to open Tuesday in Boulder
BOULDER — Tuesday will mark the long-awaited opening of a Voodoo Doughnut location in Boulder.
Grand-opening festivities will begin at 8 a.m., with a ribbon-cutting at the store, 3210 Arapahoe Ave. Among the shop's offerings will be a special Golden Buffalo doughnut as a tribute to the nearby University of Colorado's mascot.
According to a news release issued Wednesday by the Portland, Oregon-based chain, the Boulder store will include a large chandelier, hand-painted murals by local artists, "one-of-a-kind wallpaper" and a black velvet painting featuring "spirit channelers." Doughnuts will be displayed in jewel-like spinning cases.
"We are stoked to finally open our doors," said Chris Schultz, the chain's CEO. "Our team has worked tirelessly to bring that voodoo magic to the Boulder community, and we look forward to welcoming everyone on Aug. 1."
The store is housed in a space formerly occupied by a Taco Bell-KFC fast-food eatery, and locals had speculated for much of last year about the quirky doughnut shop coming to town when the building was painted shocking pink, a color that often adorns Voodoo locations. The company confirmed its Boulder intentions last October, but in May its fans panicked on social media after noticing that the pink hue had been painted over in shades of gray.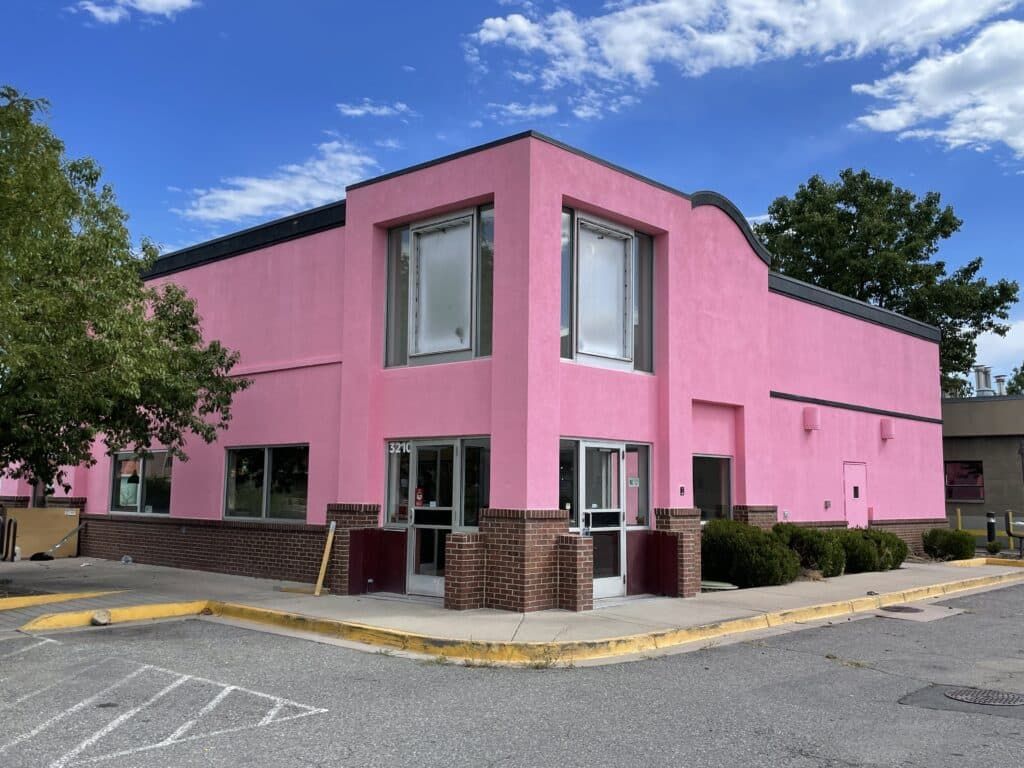 Cate Stanek, communications program manager for the city of Boulder, told BizWest at the time that the building's bright pink color violated city codes and the owners had been requested to change it. However, an email from Voodoo's marketing department urged fans of the shops to "never fear, we're still planning on opening our Boulder location!"
It had said it expected to hire 75 workers for the Boulder shop and "offer competitive wages, affordable health care and liberal [paid time off], in an environment where no name tag or uniform is required, letting the team be as unique as the doughnuts themselves."
Founded in Portland in 2003, the chain is known for its over-the-top doughnut creations including bacon-maple bars and one called "Memphis Mafia." It now offers more than 50 flavor options including 25 vegan selections. It has several locations in Denver and on Concourse B at Denver International Airport, and also currently operates in Portland and Eugene, Oregon; Vancouver, Washington; Orlando, Florida; and Hollywood, California. Its Texas locations include shops in Austin, Cypress, Katy, San Antonio and Houston, with a new store planned for Dallas.
Source: BizWest