Trucking companies square off in Weld court
KERSEY — To quote the late trucking balladeer C.W. McCall, somebody is "about to put the hammer down" in a long-brewing dispute between trucking companies at the 34 Transportation Center east of Greeley in Kersey.
Rush Truck Centers of Colorado Inc. has filed a lawsuit against the 34 Transportation Center Association and Craig Sparrow, the developer of the industrial center and the owner of Western Equipment & Truck Inc.
Rush is based in New Braunfels, Texas, and sells new and used Peterbilt trucks. It has operations in Denver and Colorado Springs in Colorado, in addition to the facility at 26956 Weld County Road 47.
Sparrow is a Weld County resident. His company buys and sells heavy equipment, trucks and parts; he's also developing the 34 Transportation Center, which in addition to his company and Rush, has included just one other company, ChampionX LLC, which is not a party to this lawsuit.
Rush claimed in its lawsuit that Sparrow and the nonprofit association that is supposed to represent all occupants of the industrial center have targeted Rush because of "a long-standing personal vendetta," have taken actions contrary to the bylaws of the association, and have accumulated $250,000 in expenses that it is attempting to force Rush to pay. The lawsuit claims that Sparrow has harassed Rush employees, accused Rush of crimes, reported illegal dumping of chemicals and waste and otherwise "is maniacally committed to persecuting Rush."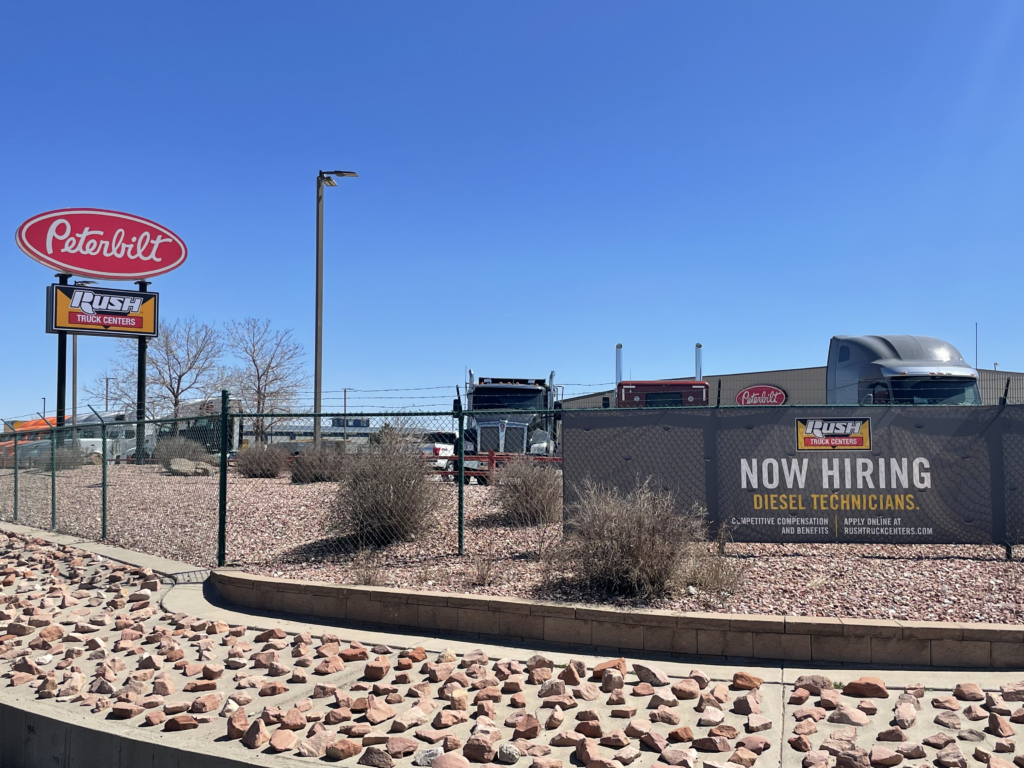 The lawsuit claimed that no environmental violations have been cited after investigations by enforcement agencies.
The lawsuit was filed now because Sparrow recently sold by quit claim deed two outlots to people who Rush described as friends of Sparrow's in order to take control of the 34 Transportation Center Association board. Prior to the sale, Sparrow had one of three votes on the board. After the sales, he controls three of five votes, the lawsuit alleged.
The lawsuit said that Sparrow has taken "ultra vires" actions, which are defined as actions that exceed the scope of power permitted by laws or charters.
The lawsuit asked the court to determine that the two new board members, Jerry Miller and Dale Schutt, be declared ineligible to serve on the board and also to declare that Sparrow acted inappropriately, cannot shift expenses that he incurred onto Rush, and that Sparrow be removed from the board.
Greg Hearing, an attorney with Gordon & Rees LLP representing Rush, declined to comment without first clearing it with his client.
Sparrow, on the other hand, spent the better part of an hour with BizWest describing a list of grievances that he, as the industrial park developer, has with Rush. He claimed to have witnessed in 2014 the dumping of grease and oil because the company didn't build a grease pit to contain it. He said the reason Rush hasn't been cited by investigators is because Kersey doesn't want to get involved. He also said Kersey has failed to enforce requirements for handicapped parking, a fire-protection water pond, and placement of emergency access gates.
He admitted selling parcels at the back of the development to friends Miller and Schutt. Weld County records show that Miller Family Investments LLC and Dale Schutt own the parcels but no sales price, nor deeds, are recorded with the county. A search on the county website delivers a "no sales found" message for the Miller parcel and "couldn't find the requested property record" for the Schutt property.
Sparrow said he sold the lots for "a quarter or a half million" dollars.
"I've tried for 14 years to get this thing (the industrial park) going. Maybe I did give somebody a deal so I wasn't out there all by myself, so I could go on with my life," Sparrow said. "They're the only people who would put up with it. Now I've got some help."
The case is Rush Truck Centers of Colorado Inc. v. Craig Sparrow and 34 Transportation Center Association, case number 2023cv30251 in Weld County District Court.
Source: BizWest