Szczurek joins Government Sourcing Solutions
BOULDER — Theresa Szczurek, a Boulder entrepreneur and former chief information officer for the state of Colorado, has joined Government Sourcing Solutions LLC, a public-sector procurement advisory firm, as managing director.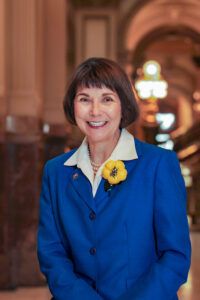 Szczurek is co-founder and chief operating officer of Boulder-based Radish Systems LLC, which provides visual interactive voice response and visual live assistance solutions.
She served as CIO for Colorado and executive director of the Governor's Office of Information Technology from January 2019 to September 2020, with responsibility for the state's voice and data communications network, digital transformation, and cybersecurity services.
"Improved procurement of the right solutions helps governments, schools, and the people they serve. As the former chief information officer of the state of Colorado and a technology entrepreneur, I am pleased to augment the Government Sourcing Solutions chief information officer leadership team and continue contributing to public service," Szczurek said in a written statement.
GSS has hired other former government officials, including the recent addition of former CIOs from Vermont and Maryland.
"The intersection of public purchasing and public IT needs grows more complex every day. At the same time the rising tide of public sector retirements limits the available hands on deck required to tackle that challenge. We are looking forward to Theresa contributing to our unique group of esteemed former state CIOs, CPOs and CAOs that have helped navigate public procurement and policy for over 15 years," Brian Selander, CEO of Government Sourcing Solutions, said in a written statement.
Source: BizWest