SkinnyFats, Cheba Hut to take over Lazy Dog space on Pearl
BOULDER — Nearly four years after Boulder watering hole Lazy Dog Bar & Grill served its last beer, the massive, multi-bar space with a roof deck on Pearl Street is finally set to welcome new tenants: the well-known, cannabis-themed sandwich chain Cheba Hut and SkinnyFats, a Las Vegas-born concept with its sights set on Colorado expansion.
Plans to divide the 12,300-square-foot property at 1346 Pearl St. into three storefronts — SkinnyFats on the north, Cheba on the south and a small retail shop between — are set to be reviewed on Tuesday by Boulder's Planning Board.
Cheba Hut, which has locations throughout the Front Range, including in Longmont, Johnstown, Greeley and Fort Collins, serves "toasted subs, salads and munchies," according to a memo provided to city planners.
SkinnyFats, according to another memo, offers a "healthy and happy menu that caters to a variety of dietary needs. The Boulder location, which will have a roofdeck, will serve "American fare with sandwiches, salads, and bowls."
Both Cheba Hut and SkinnyFats will have full bars. SF will have a rooftop deck and CH will have a ground-level patio.
"Outdoor dining is a desirable amenity throughout downtown," according to a Boulder planning memo. "…The proposal is similar to several other approved use reviews at nearby establishments in the downtown area, including (some establishments) that specifically provide rooftop dining," such as Avanti and The Rio.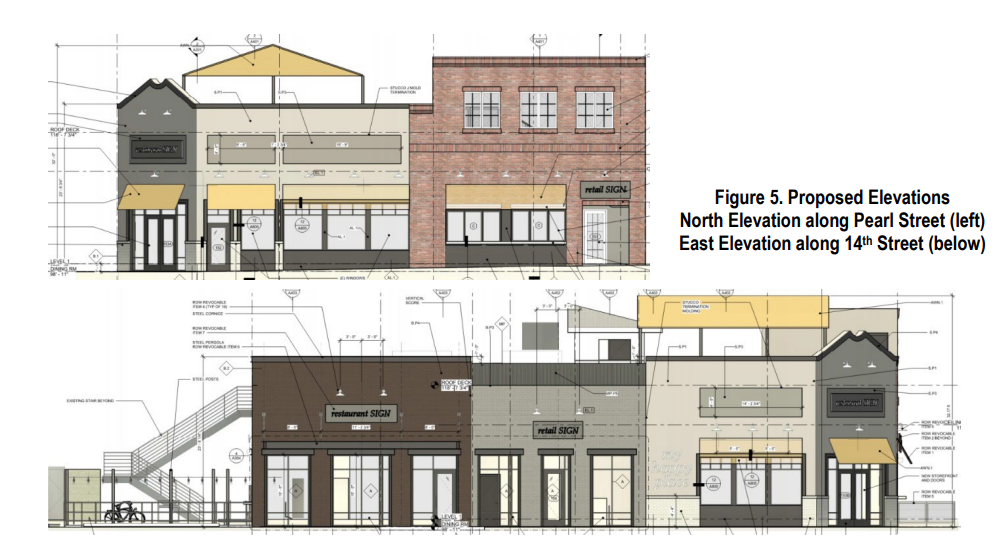 SkinnyFats was founded in 2013 by Reed Allen Slobusky. Elevated Inc., which operates franchise locations for both Cheba Hut and SkinnyFats, inked a deal in 2022 to bring 10 SF locations to the Centennial State, media reports from the time show.
Lazy Dog Bar & Grill, a mainstay on Boulder's Pearl Street Mall since 2004, closed in early October 2019, prior to the COVID-19 pandemic.
The closure wasn't a huge shock. Pearl Partners LLC, the bar's ownership group led by Steve Ross, who also owns the LD location in Johnstown, sold the Pearl Street building a month before closing to local real estate development and property management firm W.W. Reynolds Cos. for more than $6.4 million.
At that time, Ross told BizWest that Lazy Dog would remain in business. But Todd Walsh, a commercial real estate broker with Boulder's Market Real Estate who was the listing agent in the deal, said the property has significant redevelopment potential.
More than three years later, the building is set to be modified — not entirely redeveloped — and will once again be home to hospitality businesses.
Source: BizWest