Office sector still not recovered
Different real estate types take more than their fair share of lumps during different economic eras. The rise of e-commerce giants such as Amazon left brick and mortar retailers shaking in their boots. The Great Recession threw homeowners for a loop. More recently, the COVID-19 pandemic and its aftermath have pulled the rug out from under the office market in the Boulder Valley, Northern Colorado and beyond.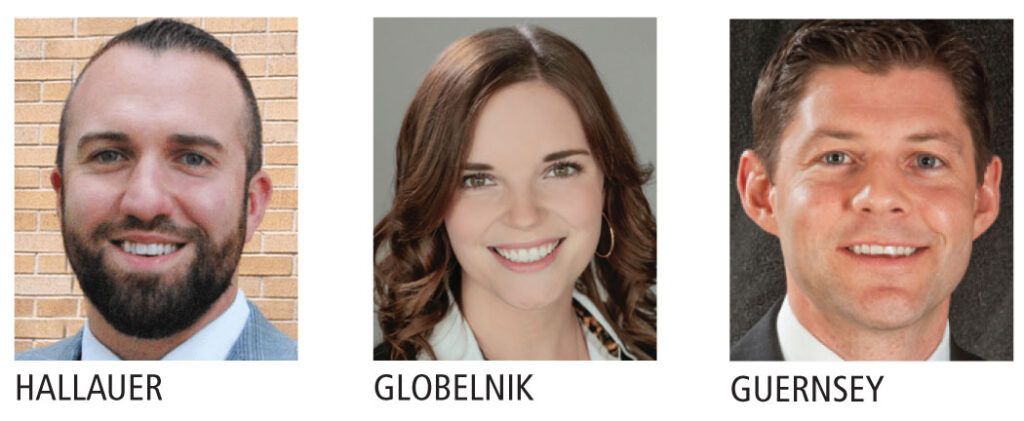 "It's not real optimistic," said Jake Hallauer, president of Northern Colorado commercial real estate brokerage NAI Affinity. "I think there are some serious concerns from a lot of office landlords."
Downtown Boulder's office vacancy rate was 28.7% in the second quarter of 2023, according to brokerage Dean Callan & Co. In Larimer County, according to Realtec Commercial Real Estate Services Inc. broker Jamie Globelnik, trades for office properties generated a sales volume of only $38.9 million, a 10-year low. 
"Numbers do not lie, and the office market continues to struggle," Dean Callan & Co. brokers wrote in a recent report on the state of the industry. 
Landlords recognize that "they just don't have the strongest asset type at this time," Globelnik said, "with tenants moving out, short-term leases, not much rent growth over the years."
Leasing activity is "largely comprised of firms that are already here," Waypoint Real Estate LLC managing broker Josh Guernsey said. "We are seeing outside firms kicking tires, looking to expand here. But the deal volume for those deals being completed is much less than what we're seeing for local and regional firms that are already here and expanding. Homegrown (companies) are seemingly most active right now." In an economically uncertain environment, signing new leases "requires less of a leap of faith if you're already here and doing business. There's less risk."
Still, regardless of overall market strength, a strong product is a strong product.
"There's not one storyline that you're going to find," Guernsey said. "… We're still seeing good demand for quality office buildings that are well located."
Work-from-home conundrum
The COVID-19 pandemic will almost assuredly have worldwide impacts that will last for years. In the business world, one of the most visible effects has been the change in the way workers view their relationships with the physical spaces they occupy for eight or more hours each day. Why spend hours every week in the car commuting, away from family and burning gas, when you can do your job from home?
Tech workers, whose job functions easily transferred from their office computers to their home laptops, were on the cutting edge of this trend. That's part of the reason why tech-heavy commercial real estate markets such as downtown Boulder have suffered disproportionately since the pandemic outbreak.
"I personally don't think that remote work is going anywhere," Globelnick said. "I say that from having a lot of conversations (with employers) about office needs and also just people who I know who work remotely for large corporations that are headquartered out of state."
Any major shift back toward a pre-COVID-19 office demand paradigm "is solely dependent on the labor market," Hallauer said. "If the labor market is as tight and competitive as it is from an employer's perspective trying to attract and retain employees, I don't think you're going to see much change with office-space utilization. Leverage is in the employees' hands" and much of the labor force appears to be solidly in the we-prefer-to-work-from-home camp.
Because office leases are often much longer than apartment leases, some users are stuck for years with space they don't need.
"There are office leases that are 10-plus years. So if you signed in 2019 (prior to the COVID-19 and resulting shift in office usage), that's a pretty long term proposition," Hallauer said. "They'll look to sublease it or try to buy out the lease in some fashion."
Many companies facing lease renewals are prioritizing flexibility, opting for one- to three-year leases rather than five- to 10-year renewals, Guernsey said. "Tenants are liking that flexibility, and in an inflationary environment landlords don't mind it either."
Flexing muscles
Of course not all jobs can be done from home. Flex spaces with an office component combined with laboratory, manufacturing or warehouse space have emerged as one of the strongest commercial real estate subsectors in the region.
"A lot of the users of significant size that are in the market (for new office space) seem to have some sort of specialized component" to the work they do — whether that's light manufacturing or research and development or distribution, CBRE first vice president Blake Harris said. "Buildings that can have flexible uses, even if they were traditionally offices, are getting a lot of interest in the market."
Commercial real estate investor BioMed Realty LLC is the region's biggest player in this conversion market, having purchased a 1 million-square-foot, 22-building portfolio in Boulder's Flatiron Park business campus in 2022 for $625 million, the richest single deal in Colorado history. BioMed is in the process of converting about 50% of the square footage in the portfolio into flex space aimed at life-sciences tenants.
In addition to conversions, developers, particularly in the Boulder Valley along the U.S. Highway 36 corridor, are in the process of building several million square feet of speculative flex space with biotech users in mind.
For example, Dallas-based investor and developer Mohr Capital LLC is dipping its first toe in the market with plans to build a four-building, 400,000-square-foot speculative campus on a vacant parcel next to the Oracle Corp. operation in Broomfield's Interlocken business park.
"We're starting to see (under-construction) spec lab space be completed," Gamble said, which will increase vacancy rates and competition for tenants. But, in part because the region has never been overbuilt, "I think those spaces will be absorbed relatively quickly."
While some owners are banking on success in converting traditional office space into flex square footage, Gamble doesn't think many landlords inexperienced in that process will attempt to follow suit.
"Not all landlords are created equal," she said. "I think some might be reluctant to throw a lot of capital into the office market with the understanding that it could still be a while until they see a return on their investment."
Even if a building owner wants to spend the money converting their office space, navigating "the bottleneck in getting permits from the city" is sometimes enough of a hassle to change their minds, Gamble said.
Size matters
While leasing activity has been stagnant for larger office spaces, activity has been comparatively hot for spaces under about 5,000 square feet
In Northern Colorado over the past 18 months, "85% of the lease deals that were completed were under 3,000 square feet," Globelnik said. "That's really signaling (the acceleration of) a trend that we've seen for a few years. Pre-COVID we were seeing that about 80% of deals were being done under 5,000 square feet."
Much of the sales activity involves trades of individual office condos, not whole office buildings, Globelnik said.
"A lot of owner-users are purchasing these," she said. "It's attractive because they get to own their own real estate, they have more control over their operating expenses and they get to benefit from the property appreciating."
Office parks and strip malls aren't the places where small office users reside. In neighborhoods throughout the region, particularly in parts of central Loveland, Longmont and Greeley, "there are a lot of residential homes that have been converted or rebuilt for commercial use," Globelnick said. "That seems to be an attractive product for your insurance agencies, your hair salons, things like that."
Medical users such as dentists and mental health practitioners are also major users of small office spaces.
"If you're asking what the hot part of the market is, there's no question it's medical, especially behavioral and mental health counseling" tenants," Guernsey said. "That's by far one of our most active segments."
Hallauer agreed and added that "some of the spaces that are professional offices at this point are being looked at by medical tenants who are looking to convert them.
While these users are taking quite a bit of space cumulatively, they are not likely to be a silver bullet for large-office landlords' woes. "I don't think I've seen one of those (medical) groups take more than 10,000 square feet — more like 5,000 square feet or under. It's not going to have any impact on those large blocks of traditional office space," Hallauer said.
Tenants are not only looking for smaller options, they're looking for offices they can move into yesterday.
Users prioritize "turnkey" options, according to Gamble, "a situation where a company can come in and not do any tenant-finish work. They can move right in."
Landlords aren't complaining about the trend away from tenant improvements, Guernsey said, as such projects "are becoming cost prohibitive."
Making deals pencil
Many commercial properties in the region are leased on a NNN, or "triple-net," basis, which means that tenants will share expenses with other tenants and the landlord. Usually, property taxes, insurance premiums and common area maintenance such as snow removal and similar expenses, are added to the base rent.
For the small business with thin margins, the impact of rent plus NNN can suddenly become something to be reckoned with.
And the NNNs are getting worse. New property valuations could cause the tax piece of the calculation to explode. Or at least that's the fear among property owners and their tenants.
"I think all landlords are really watching their operating expenses closely," Guernsey said, as many are facing 30-plus-percent property tax increases.
"Almost all of our leases are triple net, so those expenses are passed directly to the tenant," he said. "At some point that starts impacting affordability and putting downward pressure on rent rates."
Dry pipeline
With the exception of flex-laboratory space, there are few if any new office projects in the development pipeline throughout the Boulder Valley and Northern Colorado.
"I don't think you're going to see anybody (building speculative traditional office space) any time soon," Hallauer said. "… Even when you have a tenant in hand for a build-to-suit, it's really very challenging at the point in the market to make the deals pencil. Costs and rents just don't match up."
The region's commercial real estate professionals are not alone in their struggles with how to fill vacant office space. This is a global challenge, and one experts say could take years to solve. However, Northern Colorado and Boulder Valley are well positioned to capitalize on market strengths when the tides eventually turn.
"Companies go to where the talent is, not the other way around," Harris said. So as long as the Boulder Valley and Northern Colorado remain attractive to workers from around the world and continue to be home to world-class educational institutions that develop local talent, the region will be a place where companies look to set up shop.
And those companies, by and large, will need office space.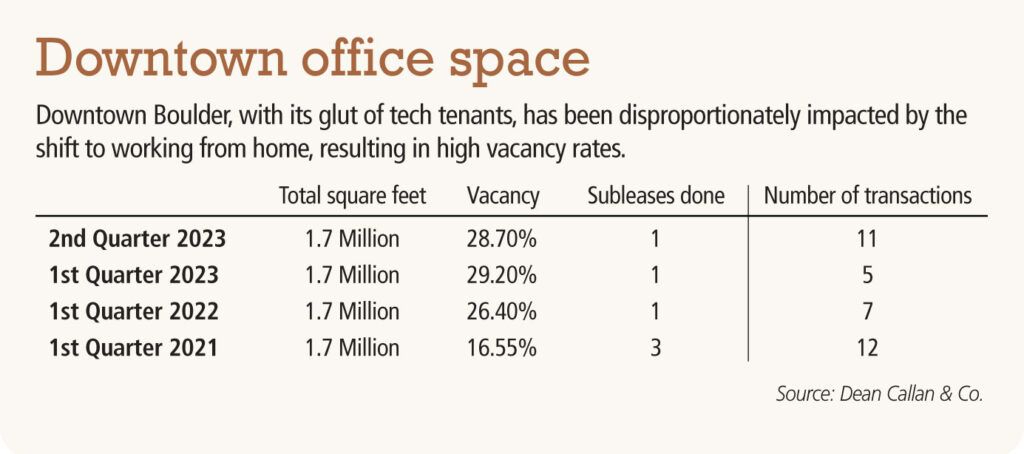 Source: BizWest