Mocked no more: Nonalcoholic cocktails raise the bar
Not even Shirley Temple would recognize what has become of nonalcoholic cocktails.
The iconic child actress of nearly 90 years ago often found herself socializing with adults in the entertainment business who were consuming drinks she was far too young to imbibe. As legend has it, the bartender at one fancy Hollywood restaurant made her a drink with a clear soda and grenadine syrup, garnished with a maraschino cherry, so she could feel fancy too.
Thus the "Shirley Temple" mocktail was born, and there were few alternatives at cocktail lounges and upscale restaurants for those who wanted to be part of the social set but chose for whatever reason not to consume alcohol. It was ginger ale, cranberry juice, lemonade or a Shirley Temple – and, later, a nonalcoholic beer such as O'Doul's.
"As I remember it," wrote bartender Joshua Thomas Gandee a few years back on TheKitchn.com, "the mocktail as concept materialized between 2009 and 2015, when talking about why you weren't drinking took the air from the room — people were unwilling to hear it. The mocktail meant you wanted something that looked like a cocktail, but didn't necessarily care if it tasted good; you just didn't want the headache of an explanation. The words 'sober curious' didn't exist. But it was time for that to change, and for the hard lines of definition to soften."
It also changed because bar and restaurant patrons became more health conscious. At Oak at Fourteenth, 1400 Pearl St. in Boulder, co-owner and beverage director Bryan Dayton features several alcohol-free drinks on his menus to make sure "everybody at the restaurant has a good time" but also because Boulder has a large population of fitness-obsessed runners, cyclists and other athletes.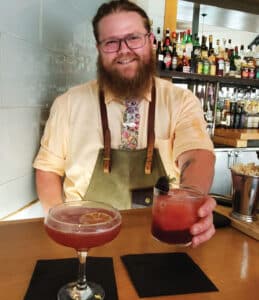 "I find it a growing market for sure — especially in Boulder," said Oak bartender Kyle Letson. He noted that the city by the Flatirons has "a lot of health nuts, a lot of people who are watching whether it's gluten-free or non-alcohol. I feel like nonalcoholic is kind of a new, healthier kick. And because it's such a diverse town with a college and everything like that, it attracts people from many, many walks of life. Everybody comes in to drop their kids off, and then they want to come in and have a nice place to eat, and have something that's like an actual cocktail, not just water or iced tea or lemonade – or a Shirley Temple."
And as the booze-free drinks have gotten more creative, complex, photogenic and pricey, the word "mocktail" is losing favor as well. At trendy speakeasy Social in Fort Collins, for instance, they're called "dry drinks."
"I think we've always had at least four drinks on our menu that were non-alcoholic" since Social opened its subterranean setting in Old Town in 2013, said Nathan Robertson, its general manager and bar manager. "We expanded it to eight about two years ago just because we saw more of a demand for it, but we've always had a 'dry drink' program at Social.
"The owner is a sommelier, and he always wanted to have a robust wine program," Robertson said. "So he got together with the original bar manager who was more cocktail focused, and together they decided to make it into the cocktail program that it is today."
To have at least eight nonalcoholic cocktails out of the 34 that Social offers on each menu is a measure of how seriously its management takes the sober-selection movement, he said, "especially when you consider that 90% of the people walking through the door are looking to drink alcohol."
Thoughtful establishments such as Oak and Social take pride in crafting original concoctions with sophisticated flavors and presentations.
"Every time we change a menu, which is three times a year, we change up that nonalcoholic menu as well so it stays fresh," Social's Robertson said. "Our spring/summer and winter menus last about four and a half months each, and then for three months we do a short little autumn menu because the flavors of autumn are so intense and kind of specific to that time of year.
"I'm just out now getting my bartenders ready to start thinking about that fall menu," he said. "It's usually about a three-week process to go from concept to final menu. It's going to be released on Sept. 15."
Before each menu is crafted including drinks with and without alcohol, he said, "we basically all present our ideas at a bar meeting, and then the ones that are promising we'll alter until they're perfect, and the ones that don't make the cut just don't make the cut."
Getting his staff involved is a high priority for Robertson.
"I've come up with over 275 cocktails in my tenure at Social so I don't think I have anything left to prove," he said, "so they might as well start cutting their teeth as well.
"It's a very democratic process," he said. "I used to take the lead on most menu development, but I found that over the years, giving the bartenders some ownership of that by putting their drinks on the menu actually makes for a much more well-rounded menu as well as makes my bartenders a lot happier, so that's the way we do it now."
One of his happy bartenders is assistant general manager Morgan Reddick, who served up a red-hued "Patio Pounder" — selling for $7.75 on the menu — and beamed, "This is one of mine. Looking at it, you wouldn't necessarily know it's nonalcoholic."
Reddick created the Patio Pounder with fresh lemon, grapefruit soda, soda water, orgeat — a sweet syrup made from almonds, sugar and rose water or orange-flower water — and a Giffard nonalcoholic aperitif.
Those booze-free aperitifs, pricey and often imported, are the foundation for many non-alcoholic cocktails. British-born Seedlip is a common ingredient, and Letson at Oak swears by various flavors of Three Spirit.
He described one of the Three Spirit aperitifs as "bourbon-forward, so I'm trying to develop something around that. Lately I've been playing around with peaches and rosemary. We're just trying to up our mocktails along with our regular cocktail menu as well. We're trying to keep it seasonal for everybody because it's fun that way.
For the $10 "Lights Out" cocktail Letson created, he said, "I start with Three Spirit lavender — kind of spicy, kind of sweet, a kind of citrusy note to it, a little bit of bitters. Then I use a raspberry-thyme simple syrup that I made, then I shake it up, pour it in a glass over the rock, then I top it off with club soda, then I just put the blackberry and the thyme on as garnish."
Oak's mocktail menu also includes "The Rehydrator" for $8, with its blend of aloe, cranberry juice, lime, honey and Luxardo cherry syrup to satisfy a cosmo craving. An $8 "Tea Time" combines rhubarb and lavender syrups, ice tea and Oak's own ginger beer.
At Social, a "Wild Card" goes for $5.75, with its mixture of fresh orange, vanilla bean syrup, cardamon, fresh thyme and soda water. For $6.25 there's a "Violet Beauregarde" with grapefruit, house-crafted tonic, blueberry-coconut syrup, fresh lemon and soda. A "Get Lucky" for $8.50 uses Seedlip's Spice & Grove aperitif — with its elements of Japanese sansho pepper, lemongrass and sweet citrus and notes of grass and lime — as well as a rhubarb-tonic spirit, grapefruit and nonalcoholic bitters. The $9.25 Virgroni is the top-shelf offering, with both Seedlip and Giffard aperitifs, bitters and house-made tonic syrup.
Like his Social counterparts, Letson takes pride in presenting liquor-free options.
"A couple of the chefs in the back, they're nonalcoholic. It's kind of hard when you have your cooks, your chefs, your servers come in to someplace that you work at and you can't really have a cocktail," Letson said. "Everyone else is drinking, and you want something that looks like you're drinking — it's super good and delicious, but no alcohol."
Robertson estimated that Social's patrons order about 30 nonalcoholic cocktails on an average weeknight and upward of 50 or 60 on a weekend. Letson's estimate at Oak is similar.
Bartenders at several other upscale restaurants and lounges in the Boulder Valley and Northern Colorado have ways to make many of their classic cocktails nonalcoholic. And others boast their own mocktail creations. In Boulder, the Kitchen and the Kitchen Upstairs boast the "Flowerbed," a virgin variant on a gin and tonic with muddled cucumber, elderflower tonic, lime and soda water. In Longmont, Abbott and Wallace Distillery not only lists four mocktails but will add full-spectrum CBD extract to any beverage for $2. And in Old Town Fort Collins, Elliot's Martini Bar satisfies autumnal cravings with an $8 "Golden Delicious," which melds Seedlip Spice Zero-Proof Spirit, lemon, maple syrup, apple simple syrup, and apple bitters.
Source: BizWest