Michelin names restaurants to its debut Colorado list
Multiple restaurants from Denver, Boulder, Aspen and Vail were named to The Michelin Guide as it made its debut appearance in Colorado.
Michelin, which designates the best restaurants around the world, sent its mystery diners into restaurants of multiple cities in the state to discover the best dining offerings.
Five restaurants, including Frasca Food and Wine, 1738 Pearl St. in Boulder, made the list of One Star restaurants. Four restaurants, including Blackbelly Market, 1606 Conestoga St., and Bramble & Hare, 1970 13th St., both in Boulder, made the Green Star list.
Another Boulder eatery, Basta, 3601 Arapahoe Ave., made the list of nine Bib Gourmand restaurants.
In all, 44 restaurants in the state made the directory's lists.
"This is a proud moment for Colorado and for the Michelin Guide, with five Michelin-starred restaurants highlighting the state's debut selection of restaurants," Gwendal Poullennec, the international director of the Michelin Guides, said in a written statement. "It's quite an impressive feat for a debut selection to include so many Michelin Green Stars. Our famously anonymous inspectors were wowed by these restaurants' high-quality, local ingredients, sourced seasonally and sustainably. It's a very exciting time for the culinary community here, and we feel the momentum growing."
Here are the new One Star restaurants, with inspector notes from each.
Beckon (Denver; contemporary cuisine)
"More than just a name, it's an ethos at this ambitious RiNo dining room from Chef Duncan Holmes where staff warmly welcome you. Once inside this Scandi-cool space, diners pull up a chair at the 18-seat counter facing the kitchen where a focused team is hard at work. The multicourse contemporary tasting menu rotates quarterly (think harvest-themed in the fall). This kitchen offers far from typical dishes. Seared quail breast with a confit leg is spot on, especially when sided by creamed kale made with sunflower seeds and a quail reduction."
Bosq (Aspen; contemporary cuisine)
"At this singular enclave, Chef Barclay Dodge and his team are executing seasonally inspired cooking that focuses on foraging, fermenting and local farms. The menu format allows diners to customize their own tasting of four or more courses. From hand-picked spruce tips to butter from locally sourced cooperative dairy cows, this is a concept that pays attention to details — even ingredients from farther afield, like lobster from New England, gets a hit of local flavor from being grilled over juniper wood."
Brutø (Denver; Mexican/contemporary cuisine)
"Chef Michael Diaz de Leon runs the show here, where the team takes a serious approach to locality and seasonality, not only in the produce but also the grains, which they mill or nixtamalize in-house. The mastery of the hearth as the primary cooking implement makes this operation special, and it infuses each of the tasting menu's courses with distinct notes. The menu, which is Mexican at its core, has a clear narrative, and is perhaps best displayed in lamb prepared two ways — as a street-style taco and ground lamb leg kushiyaki with a quenelle of mole chichilo."
Frasca Food and Wine (Boulder; Italian cuisine)
"All are treated as special guests here, where Chef Ian Palazzola's cooking is Italian, but in a hyper-specific way: It's the food of the northeast Italian region of Friuli Venezia Giulia. You'll find pasta and seafood on the prix fixe and tasting menus, but Slavic and Alpine elements also appear. Focused and distinct, the menu might showcase a lesser-known part of Italy, but the ingredients are clearly Coloradan. The plates are beguiling with a minimal, straightforward approach, as in cjalson, half-moon fresh spinach pasta pockets filled with an English pea and potato purée."
The Wolf's Tailor (Denver; contemporary cuisine)
"With culinary stylings as singular as its name, this charmer stands apart from the pack. Chef Taylor Stark shepherds a creative multicourse menu that abounds with personality, boasting a unique, genre-defying style that draws variously from Nordic, Italian and East Asian cuisines, but nonetheless feels focused and cohesive. Although the menu shifts throughout the year to explore different themes, diners will find a common thread in cooking that highlights ingredients while displaying technical precision and harmonious flavors, with fermentation a frequent motif."
Green Star restaurants are:
Blackbelly Market (Boulder; American cuisine)
"Initiatives: full utilization of every ingredient and animal, most of which are butchered in-house; sourcing from local ranches and farms that apply natural practices to everything they cultivate; herbs and flowers for plates grown on property."
Bramble & Hare (Boulder; American cuisine)
"Initiatives: organic farm with 70 acres growing more than 250 varieties of vegetables, herbs and grain, which is ground into flour on a stone mill; an acre of chamomile for restaurant use; 360 acres of pasture for raising heritage sheep and pigs."
Brutø (Denver; Mexican/contemporary cuisine)
"Initiatives: zero-waste ethos; fermentation program to create umami-based ingredients; house-milled grains grown in Colorado; hyper-local sourcing; partnership with Zero Foodprint to help reduce carbon footprint and carbon emissions."
The Wolf's Tailor (Denver; contemporary cuisine)
"Initiatives: zero-waste mentality; local apple cider vinegar project; recycling bread waste into sourdough gochujang; contract farming to grow heirloom wheat for flour on organic, regeneratively farmed land; on-site pollinator garden; certified sustainable foraging program."
Bib Gourmand
The inspectors named nine restaurants to the Bib Gourmand designation, which recognizes eateries for great food at a great value: AJ's Pit Bar-B-Q, Ash'Kara, Basta, The Ginger Pig, Glo Noodle House, Hop Alley, La Diabla Pozole y Mezcal, Mister Oso and Tavernetta.
Michelin also issued special awards to two Boulder restaurants. Sergei Kiefel and the front-of-house team at Frasca Food and Wine was given the Outstanding Service Award. Kelly Kawachi of Blackbelly Market received the Michelin Young Chef/Culinary Professional Award.
Finally, in addition to Boulder restaurants already recognized, Michelin recommended:
Dushanbe Tea House, Oak at Fourteenth, Santo, Stella's Cucina, and Zoe Ma Ma.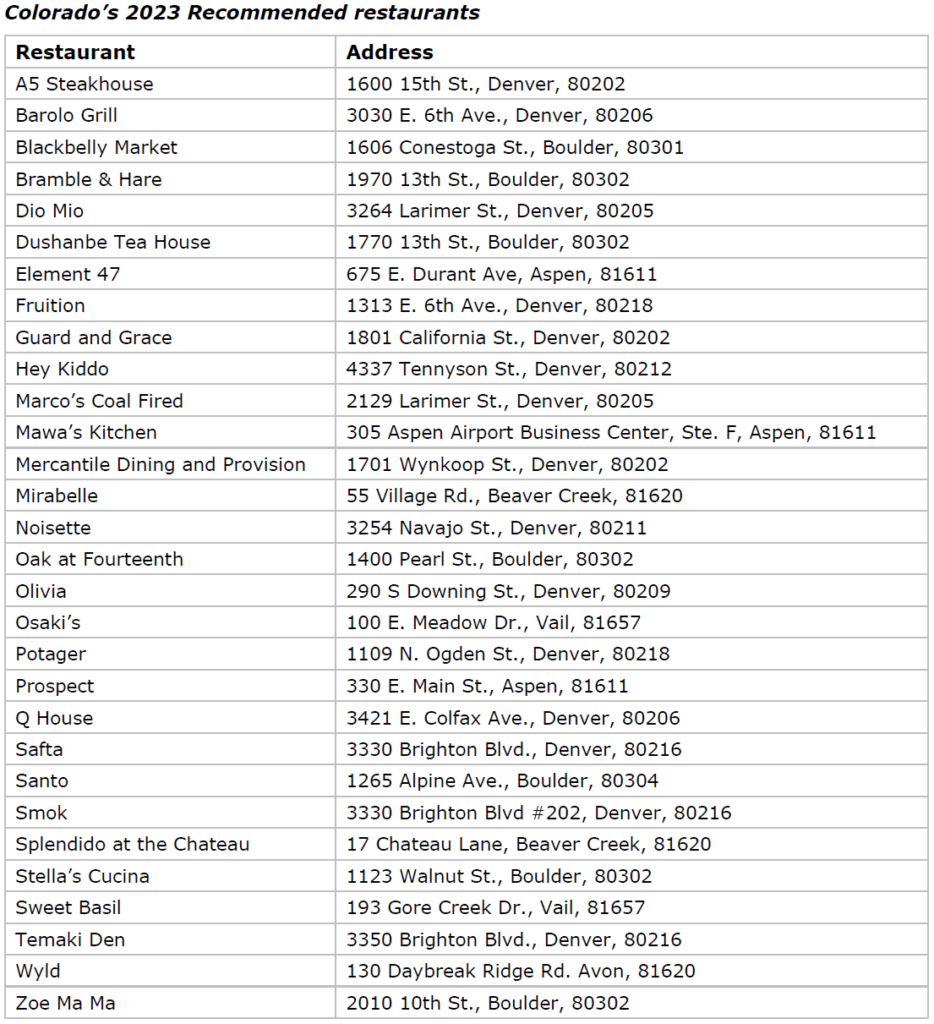 Source: BizWest