Marshall Fire: 200 new plaintiffs join legal battle against Xcel
BOULDER COUNTY — The pace of legal actions against Xcel Energy Inc., which investigators say is at least partially responsible for the spread of the devastating Marshall Fire in December 2021, is picking up as hundreds of new plaintiffs filed a new lawsuit against the utility company this week, and a local senior judge recused all Boulder County District Court judges from several fire-related cases.
First, on Monday, John Uridil and Julia Uridil sued Xcel in Boulder County, claiming the company was negligent in failing to take proper precautions against the potential for fire in dry and high-wind weather conditions. The couple was followed later that day by nearly 250 eastern Boulder County residents and businesses, who filed a separate district court action against Xcel.
A class-action lawsuit against Xcel was filed last year by Eldorado Liquor owners George and Lisa Kupfnercl, who claimed that the utility "substantially caused or contributed to the cause, origin and continuation" of the Marshall Fire, and, in a separate action last month, a group of more than two dozen Boulder County homeowners, renters and business operators joined in a lawsuit that also accuses the utility of negligence.
In the most recent lawsuit, Cynthia Wallace et al. v. Xcel Energy Inc., the scores of plaintiffs accuse the utility of failing to maintain its systems in such a way as to minimize the risk of fire.
"Xcel Energy's electrical transmission and distribution system, including its electrical
equipment, is inherently dangerous and hazardous instrumentalities," the complaint said. "The transmission and distribution of electricity requires Xcel Energy to exercise the highest degree of care that skill and foresight can attain consistent with the practical conduct of its business under the known methods and the present state of the particular art."
That necessary degree of care was not exercised, the lawsuit alleges.
"Prior to Dec. 30, 2021, Xcel Energy failed to properly design, construct, inspect, maintain, repair, manage, and/or operate its electrical equipment pursuant to the applicable National Electrical Safety Code safety standards, accepted engineering practice in the electric industry, and pursuant to any other applicable codes or standards," the complaint alleges. "As a result, Xcel Energy's electrical equipment caused a fire near the Marshall Mesa Trailhead, which ultimately became the Marshall Fire."
Boulder County District Court Senior Judge Ingrid Bakke, seemingly in a nod to how widespread the Marshall Fire damage was throughout the community, recused all county judges this week from the Wallace and Uridil cases. Judges from other jurisdictions are expected to be brought in to oversee the proceedings.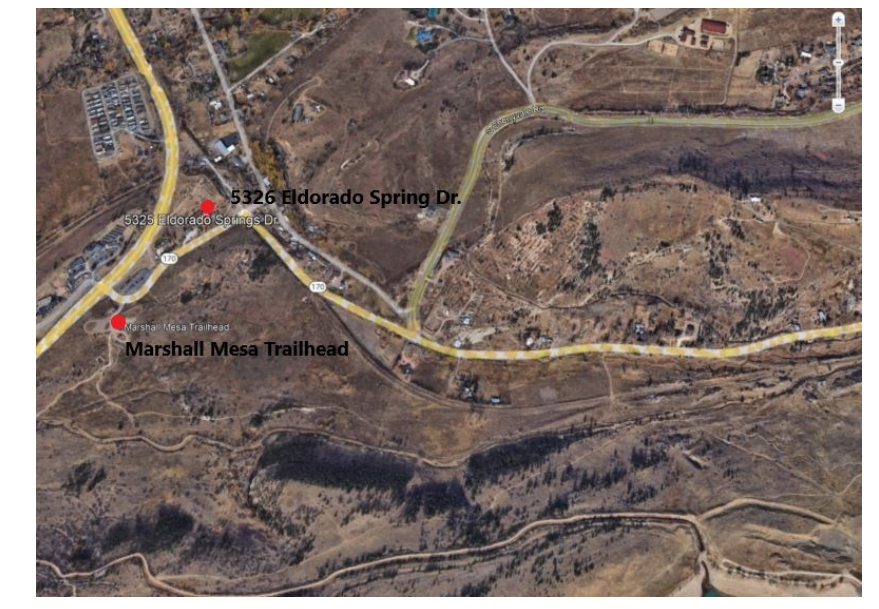 This week's flurry of lawsuits comes about a month after Boulder County Sheriff's Office investigators determined that the Marshall Fire, which killed two people, had two root causes: high winds that uncovered a smoldering, days-old fire at the residence of the Twelve Tribes religious group, members of which live at a compound at 5325 Eldorado Springs Drive in Boulder County, and a malfunctioning Xcel powerline that became "unmoored" during the windy day on Dec. 30, 2021.
Residents of the Twelve Tribes home burned material in a yard on Dec. 24, a week prior to the start of the Marshall fire, buried it and assumed that the flames were extinguished, investigators said.
Twelve Tribes is an international organization with several thousand members that has been accused by past members of labor exploitation, child abuse and racist teachings.
Soon after the high winds on Dec. 30, 2021, transformed the smoldering material into a blaze at Eldorado Springs Drive, "hot particles discharged from an Xcel Energy powerline" several thousand feet away from the initial fire and started a new blaze in a nearby grassy area," Boulder County Sheriff Curtis Johnson said last month. Investigators found that this line malfunction was likely not related to the Eldorado Springs Drive residential fire; however, the two blazes quickly converged and together started the Marshall Fire.
Officials do not plan to file charges against any person or company.
Xcel, which declined to comment on the recent lawsuit, told BizWest last month that it disagrees with the conclusion of the Marshall Fire investigation.
This week's suit from Wallace and her several hundred co-plaintiffs said that being proactive when it comes to wind conditions is part of the business model for Xcel, which uses wind turbines to create some of its electricity.
"Xcel Energy is demonstrably aware of Colorado's wind patterns and propensity for high wind
events," the lawsuit said. "Xcel Energy explicitly observes and plans around high wind events in Colorado — constructing and operating wind farms throughout the state in order to profit from Colorado's windy conditions."
The complaint alleges that Xcel knew its equipment was "old, … unsafe, and/or vulnerable to weather and environmental conditions," and the utility "failed to conform to industry standards and accepted best practices to ensure the safety of persons and property."
The lawsuit is Wallace et al. v. Xcel Energy Inc., case number 2023CV30488, filed July 10, 2023 in Boulder County District Court.
Source: BizWest