Loveland council OKs incentive package for Bass Pro Shops
LOVELAND — An economic-incentive package for a proposed Bass Pro Shops store won unanimous Loveland City Council approval Tuesday night.
The store, which could be open as soon as late 2025, will encompass at least 130,000 square feet and be the first large anchor on a 19-acre tract on the northeast corner of Interstate 25 and Crossroads Boulevard that is part of The Brands, Water Valley Land Co. president Martin Lind's mixed-use development project spanning both sides of the interstate and parts of Loveland and Windsor.
According to materials presented to the City Council by Economic Development Director Kelly Jones and Business Development Project Manager Scott Schorling, Bass Pro is projected to attract an estimated half-million visitors a year, generate around $40 million in annual sales and employ at least 150 people at an annual average salary of $54,000.
"That was a love fest tonight," Lind said after the final vote. "I'm just super excited that that board unanimously recognized the tremendous value, both economically and socially, that Bass Pro brings to a region."
That regional draw, possibly luring customers from Wyoming and Nebraska as well as Northern Colorado, even won over Mayor Jacki Marsh. "I'm typically a 'no' on incentives," she said, "but I support them when they're a regional enterprise."
Besides, mused Mayor Pro Tem Don Overcash, "we're really going to help Denver with their traffic problems on I-25 and I-225 because we won't be driving down there" to get to the nearest Bass Pro location in the Northfield shopping center at I-225 and I-70.
Councilor Patrick McFall, noting that the city's development team turned down the developer's request for a waiver of property taxes, emphasized that the incentive package is "not a rollover. We're doing the best for our city."
The incentive package is built on the December 2016 business-assistance agreement between Lind and the city to develop The Brands, which ends in 2047.
Bass Pro representatives had asked for considerations including construction-permit fee waivers, being allowed to keep two of every three cents collected in city sales tax until the Brands agreement ends in 2047 plus a three-year extension, and a donation to fund a larger aquarium, a typical feature in Bass Pro stores.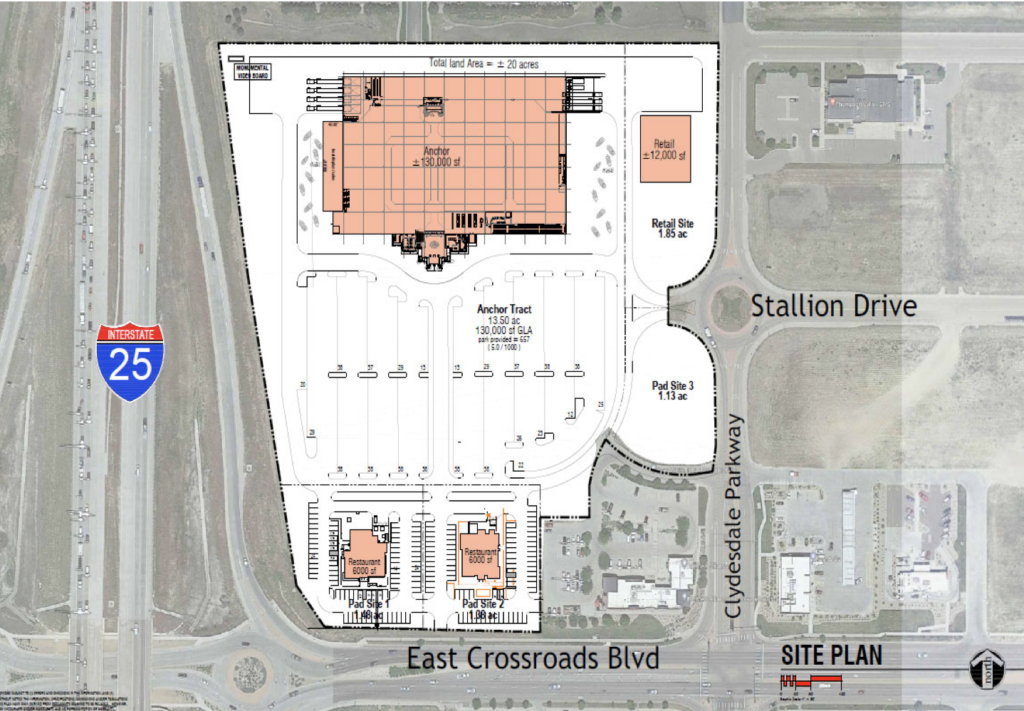 In response, the city staff recommended reducing the fee waiver on construction building permits, use tax, stormwater impact fees, general government capital expansion fees and law-enforcement capital expansion fees, but not to exceed $800,000. They agreed to rebate two cents of sales tax until 2047, but not to extend the Brands agreement. They also agreed to change the name of Stallion Drive to Bass Pro Drive.
Also as part of the pact, Water Valley committed to donate the 19-acre tract to the developer, Dallas-based Charles Hodges Development Services, which has worked to build many Bass Pro locations. It committed to the sales tax rebate plan, a 100% waiver of all metro district fees, a 100% assurance of no offsite costs including street/utilities and storm sewers, a $50,000 per year marketing menu with the Colorado Eagles American Hockey League team that plays at the Budweiser Events center at The Ranch, a $50,000-per-year exclusive marketing contribution to Bass Pro, a 10-mile deed restriction against competitors on Water Valley land holdings, and to pay $100,000 to cover Bass Pro's site-consultant costs.
The agreement committed the developer to pay the costs of construction, operation and maintenance in part through imposing a 39-mill levy on all taxable property, to be collected through an existing metro district, and enacting a minimum 1.75% public-improvement fee on all taxable sales.
Lind had been determined to lure Bass Pro Shops since 2016, the year after it walked away from a proposed site in the Centerra development one exit south around the time a 250,000-square-foot Scheels sporting-goods store announced that it would locate nearby. He resumed talks with Bass Pro late last year, and site consultant and developer Charles Hodges visited Loveland in May to explain Bass Pro's processes and requests, then returned in June to meet staffers from the city's economic-development, utilities and parks and recreation departments as well as cultural services, Visit Loveland and the Pulse municipal broadband system.
On Tuesday night, Hodges characterized the store as dedicated to "outdoor education and conservation." Overcash responded that Hodges was a "great salesman," but McFall noted that "you don't sell something when you've got a passion for it. It sells itself."
Hodges, who predicted that between engineering, construction, staff training and stocking, the process of opening could take around two years, also noted that it might take a bit longer based on supply-chain issues. He also said there are still conversations to be had with Larimer County and a local water district.
Hodges was effusive in his praise of Lind's dogged pursuit of the company, and City Council members followed suit. "Martin, again, another class act," said Dana Foley, and Overcash hailed Lind as "one of the most creative entrepreneurs." Steve Olson said "I appreciate Martin Lind being persistent and pursuing a crown jewel," and John Fogle noted that "the amount of work Water Valley has been doing for years is outstanding, and ties in with the water park hotel."
Lind, who has proposed a Rocky Mountain Grand Hotel and Conference Center, which would include a water park, as part of The Ranch complex, Larimer County's fairgrounds and events complex just north of the proposed Bass Pro site, said Tuesday night that the council approval could jump-start that plan as well as his dream of attracting Topgolf, the golf and entertainment center chain that scrubbed its plans to locate in the planned Ladera development in Timnath after voters there successfully voted in June to stop it.
"I don't think there's any question Bass Pro is a behemoth," Lind said, noting that the council's approval nearly coincided with Larimer County issuing a request for proposals this week for developing and operating a new event arena and youth sports training center at The Ranch Events Complex.
"Anybody looking for customers looking for a great experience is going to want to be around it. I think we're going to have a lot of activity. There's now no barriers to having a really cool mushroom cloud of activity out there," Lind said.
If nothing else, Lind said, "it will for sure ignite the plan we've been holding onto for at least a decade for The Brands as an experiential shopping and living community."
Councilor Andrea Samson recounted her recent visit to the Bass Pro location in Northfield and said she was "very impressed," that the "prices are very family-friendly" and that the store would be "something families will enjoy going to, especially in the winter."
Schorling noted that although there will be "some overlap of product" between Bass Pro and nearby outdoor retailers such as Scheels, Dick's Sporting Goods, Jax Sporting Goods and Sportsman's Warehouse, "the product mix is different" and that Bass Pro would add the sale of "a lot of boats" to the mix.
"Six years ago, Bass Pro Shops almost came here, and when it didn't, the community was heartbroken," said Fogle, warning Hodges that, "with six or seven years of pent-up demand, you'd better stock that store really well."
And Mallo added, "Make sure there's a 10-foot jon boat in stock."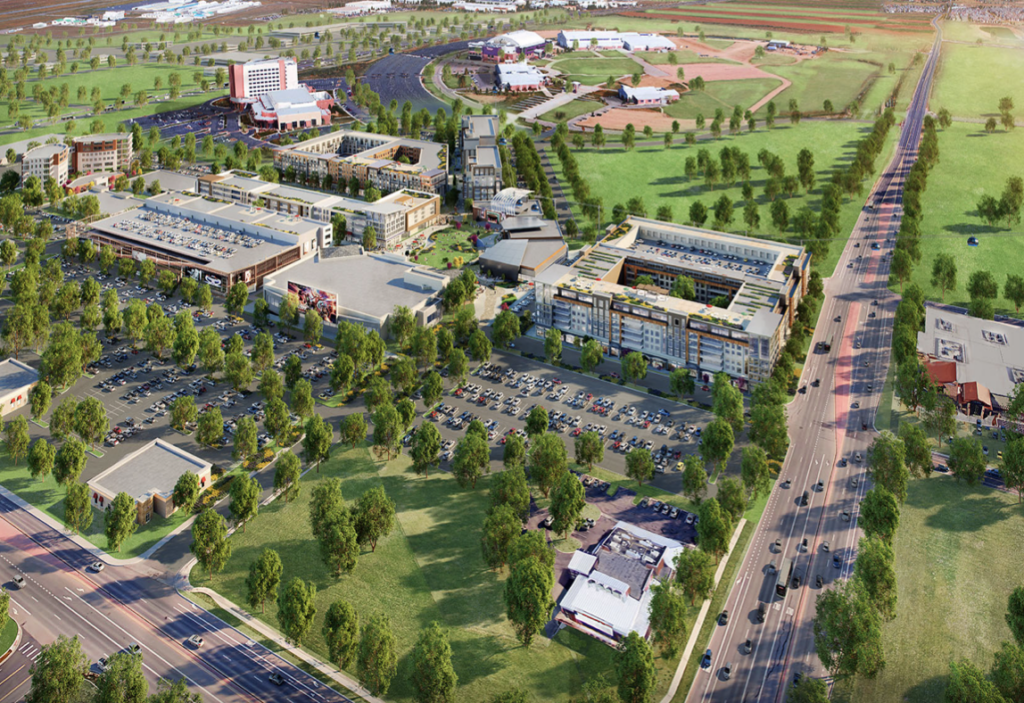 Source: BizWest