Ignite Adaptive Sports breaks ground new Eldora ski school
NEDERLAND — A warm, sunny May morning might not be the ideal opportunity to shred at Eldora Mountain, but it was a perfect setting for a groundbreaking. Resort officials joined with community members and leaders from Ignite Adaptive Sports on Wednesday in Nederland to celebrate the start of construction on a new facility that will provide expanded outdoor sports opportunities for children and for skiers and boarders with disabilities.
Ignite, founded nearly five decades ago by University of Colorado students, is a nonprofit organization dedicated to helping those with disabilities learn and participate in winter sports.
For decades, the program has operated out of small trailer-like buildings near the base of Eldora Mountain.
Bill Goldstein, Ignite's special events coordinator, was introduced to the organization after he lost his left leg about eight years ago to a diabetic infection.
"It was a hard journey. I spent about four years having 10 surgeries," he said "…But that was just the beginning for me because I was brought to Ignite Adaptive Sports, and it taught me how to ski on one leg."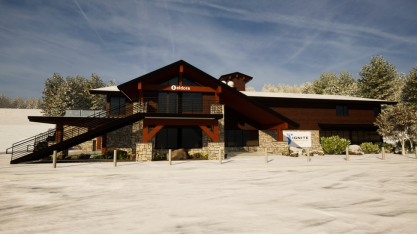 While traumatic, the loss of his leg "turned out to be the best thing that ever happened to me," Goldstein said. "That's because it put me in position to help others … and that is exactly what this building is going to do."
The new Ignite headquarters and ski school project, which is expected to take about a year to complete and will cost the nonprofit group about $2 million, will go a long way toward advancing one of Eldora's foundational goals of "enabling participation," Eldora director of sustainability and project development Hunter Wright said.
The new, 12,000-square-foot ski school will also serve as home base for Eldora's youth programming.
"We'll finally have a base lodge at the beginner area, which we've never had. We'll have food service and an outdoor deck, and parents will be able to watch their kids on the hill," Eldora president Brent Tregaskis said.
The path to groundbreaking, which took the better part of a decade, wasn't always a smooth one, he said. The permitting process with "the county was painful to say the least, but we finally got through it only about four months ago."
Regarding the partnership between the resort and Ignite, Tregaskis said that "the project shows our commitment to one another. We've come a long way."
Source: BizWest