Goes Funeral Care names new general manager
FORT COLLINS — Goes Funeral Care & Crematory Inc. has selected Ren Scherling to serve as general manager for the Fort Collins-based funeral and cremation provider. He is licensed as a funeral director, embalmer, crematory operator and Funeral Service Practitioner in Wyoming.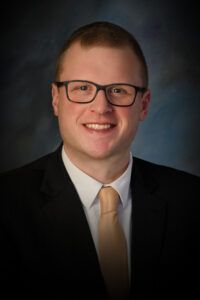 Scherling will oversee the day-to-day operations for the 26-year-old family-owned business.
"I'm grateful for the opportunity to serve at Goes Funeral Care alongside Chris and Stephanie Goes who have established and continued serving families of Fort Collins and Northern Colorado with the highest standard of care," Scherling said in a written statement. "I appreciate and look forward to ensuring families know the options we offer — from traditional burial and flame cremation to green burial and water cremation — to just about everything in between so they can make these difficult decisions with the confidence that brings peace of mind."
Scherling is a second-generation licensed funeral director. He attended Bethel College in Kansas on a football scholarship and earned his bachelor's degree in history with an emphasis in Holocaust studies and a certificate in Jewish Studies from the University of Colorado in 2012.
He is a graduate of Jefferson State Community College in Birmingham, Alabama, where he received his associate of applied science degree in funeral service education, an advanced certificate in funeral service education, and a certificate in funeral service in 2017 before passing both sections of the National Board Exam.
Source: BizWest