Fowler auto group buys Peak Kia North
WINDSOR and GREELEY — Fowler Holding Co., an Oklahoma-based auto dealership company, has added Peak Kia North of Windsor to its lineup — it's fifth dealership in the state and 11th overall.
Fowler has purchased the dealership and the property on which it sits, along with an adjacent property that it will use for expansion. The property is in the South Gate Business Park at U.S. Highway 34 and Weld County Road 17 west of Greeley in Windsor. The property deal was recorded June. 20.
Taylorgate LLC, a company registered to Jeff Taylor of 168 Halibut Drive in Windsor, sold the Kia dealership and the properties at 1115 Southgate Drive and 1111 Southgate Drive to Fowler Holding Co. of Norman, Oklahoma. The real estate sold for $11.7 million.
Taylorgate bought the properties in 2021 for $9.875 million.
Fowler has been on an acquisition spree in Colorado in recent years. Fowler bought I-25 Kia in 2021, and before that, it bought Pollard Jeep in Boulder, and owns Fowler Honda in Longmont and Fowler Chevrolet in Broomfield.
Jonathan Fowler, who lives in Lafayette to operate his family's Colorado stores, operates Fowler Kia in the existing 19,007-square-foot Kia dealership building at 1111 Southgate. That building sits on a parcel of 6.211 acres, according to the Weld County Assessor's office.
Fowler also bought the adjacent 1115 Southgate property, where Taylor ran Highway 34 RV. Taylor relocated the recreational vehicle dealership a few blocks away, Fowler said. The 1115 Southgate property includes a 20,409-square-foot building on 4.677 acres.
"We're going to use it for extra service capacity, and we have an auto detailing operation that we'll locate there," Fowler said.
The purchase means the company will increase staffing. "We're actively hiring technicians, as many as we can get," he said.
Both of those dealership properties face U.S. 34.
Meanwhile, on the same day that Fowler completed its transactions, another lot in the same business park, 1107 Southgate Drive, immediately north of the two auto dealership properties, sold but involved other buyers and sellers. Those sales were coincidental, said Fowler, who was not aware of them until Thursday.
The 1107 property is mostly undeveloped, but it does include two warehouses, each of them 12,040 square feet on a 5.574-acre parcel.
Seller was 1113 Southgate Flex LLC, a company whose registered agent is Philip Schuman, 7385 Greendale Road in Windsor. Schuman and his brother, Alex, have a development company called Schuman Cos. Inc., which recently bought the Outlets at Loveland and renamed them the Loveland Yards.
The buyer was listed as Grand K LLC, a company whose registered agent is listed by the Secretary of State as Ginny Ann Hogan of 501 Whitney Bay in Windsor. Grand K's office is at 4533 W. 14th St. in Greeley.
The property sold for $6.93 million.
Grand K sold a property at 300 E. 16th St. in Greeley to 1113 Southgate Flex LLC for $5.5 million. That Greeley property is in the Ironwood Business Park; it includes three buildings, all warehouse buildings. Two of the three are each 13,500 square feet, and the third is 12,168 square feet. The three sit on 4.36 acres.
The Ironwood Business Park was disclosed in February as the future site of a plastics recycling operation.
A call to Schuman Cos. was not returned.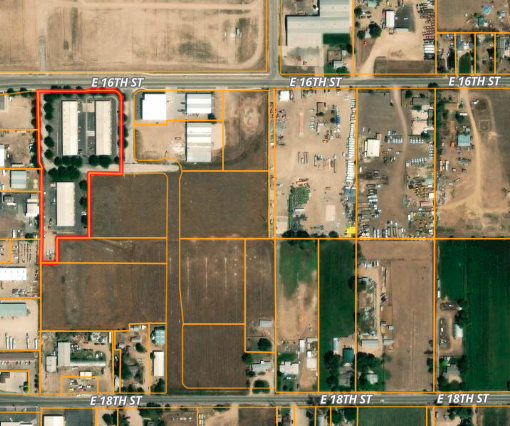 Source: BizWest