FlatIron Crossing redevelopment plans go before public
BROOMFIELD — Flatiron Crossing owner Macerich Co. is set to present its redevelopment plans for the mall Monday evening to Broomfield's Land Use Review Committee, an early opportunity for the public to weigh in on a project that aims to transform the aging shopping center into a mixed-use entertainment, housing and employment district.
At buildout, the plans "envision a mix of use with one to three office developments, one to three multi-family residential developments, one hotel, two to four restaurant pads, grade-level retail, a parking structure, and the removal of certain existing surface parking areas to accommodate new development," according to Broomfield planning documents. "The core mall area, AMC theater, Red Robin, PF Changs, and most other stand-alone buildings are anticipated to remain. The proposed redevelopment is planned to enhance and energize the shopping district by reinventing elements of the shopping center. Several of the new buildings are anticipated to be five to six stories in height."
Members of the city's LUR will review site-development plans Monday from the first phase of the redevelopment effort, known as the Village, a district "characterized by an outdoor gathering area framed by new buildings, [that] encompasses approximately 24 acres," a Broomfield planning memo said.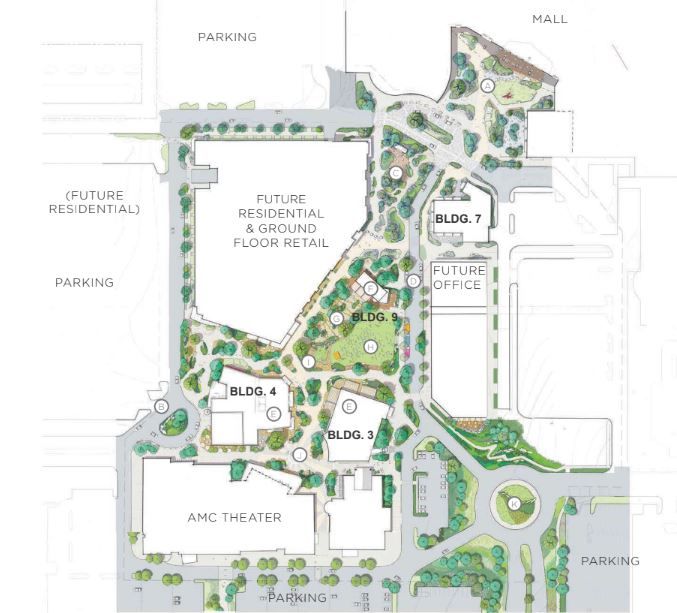 Specifically, the initial phase will include roadway realignments and infrastructure improvements, modifications to the existing Gordon Biersch and 2nd & Charles shop buildings, construction of new buildings for food and beverage tenants, construction of an outdoor pavilion, dedication of about two acres for a future public park and grading work for future phases of the redevelopment project.
The first phase of development is expected to include about 320 apartments and as many as 250,000 square feet of office space, the city documents said. The approved zoning at Flatiron Crossing allows for as many as 750 new apartments to build on the site, and additional units are expected to be included in plans for future phases.
The shuttered Nordstrom Inc. (NYSE: JWN) department store location could be redeveloped into office space, but that would occur after the first phase of redevelopment.
Portions of the developed Village area could open by late 2024, with the residential portion of the project expected to be online by a yet-to-be-determined date after 2024.
Source: BizWest