Developer's vision for Longmont's Sugar Mill includes 2K homes, 250K SF of commercial
LONGMONT — Developer Charlie Woolley unveiled his ambitious, long-term plans for redevelopment of Longmont's historic but crumbling Sugar Mill on Tuesday evening, which call for the construction of 2,200 residential units and 250,000 square feet of commercial space.
"We're here to ask you to engage with us in a public-private partnership to save the Sugar Mill and make a unique, Longmont-centric place," Woolley, founding principal of Denver-based St. Charles Town Co., told Longmont City Council members.
The plan for St. Charles, which intends to partner with Generator Development, Starboard Realty Group, Remington Homes and the Golden Group to transform the Sugar Mill site, Woolley said, is to "leverage public financing" to build the proposed homes and commercial space, alongside additional neighborhood features such as a 100-plus-room hotel, 60,000 square feet of retail, and a 64,000-square-foot performing arts center.
"Arriving in Longmont, you can't miss the 275-foot smokestack, the silos and the impressive six-story factory," he said, but the Sugar Mill, built in 1902, has for decades been left to decay, "subject to arson and extreme vandalism."
Still, it's "a mass and scale that's unlike anything in Longmont," Woolley said. "… The site is messy, but most of the buildings are salvageable."
Woolley's conceptual presentation to the City Council, which did not vote on anything related to the proposal last night, comes after the Longmont Planning and Zoning Commission voted unanimously last week to recommend approval of the Sugar Factory + STEAM Sub Area Plan, which lays out the vision and expectations for the redevelopment future of nearly 300 acres in south and southeastern Longmont. St. Charles' proposal appears to dovetail with much of the spirit of the area plan.
"Market momentum has already reached the Sugar Mill site with three multi-family projects with nearly 900 units ahead of the planning schedule for our Sugar Mill quarter," Woolley said.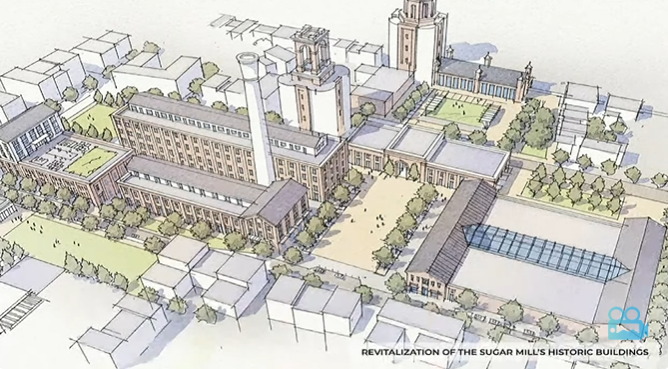 Source: BizWest