Denver investor, South Main Station developer partner on Erie apartments
ERIE — Denver-based real estate investment firm Forum Investment Group LLC is teaming up with Mass Equities Inc., the developer behind Longmont's South Main Station project, to build a new apartment complex at the Erie Town Center. 
The project, called Antelo, will include 206 units at the southwest corner of County Line Road and Erie Parkway.
"Forum is excited to partner with MEQ on this development opportunity," Forum senior managing director of development Rich Wilson said in a prepared statement. "We believe the Erie submarket is currently underserved, with projected population growth of approximately 17% over the next five years. The site is close to large employment hubs, nearby markets of Denver, Broomfield, and Boulder, and is part of a larger master-planned community for the Erie Town Center. We look forward to contributing to the growth of this market with a thoughtfully designed residential community across from a future public park and adjacent to future walkable retail."
FDG MEQ Erie LLC, a holding company registered to the address of Forum's Denver offices, bought the roughly 4.5-acre parcel where Antelo will be built in early May from Erie Four Corners LLC, an entity registered to a Longmont address by local developer David Waldner, Boulder County real estate records show. The price of the land was $5.6 million.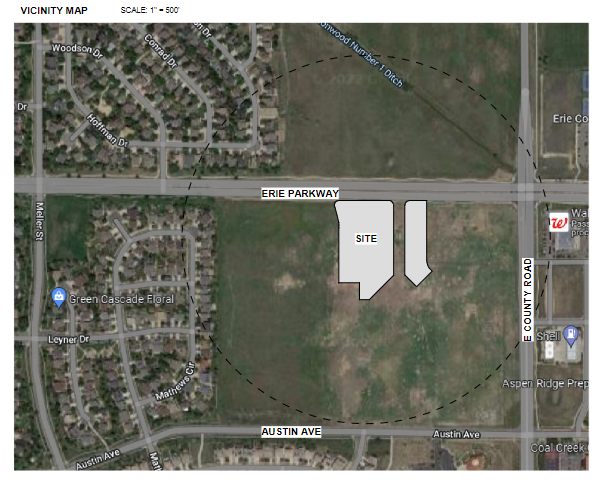 The Antelo project — expected, according to Erie planning documents, to include studios, one-, two- and three-bedroom units from 496 to 1,270 square feet — could cost between $45 million and $48 million to build, the developers wrote in a memo to town staffers.
Amenities will include an outdoor pool and spa with firepit lounges, outdoor grilling and entertainment areas, fitness studio, clubroom lounge and business center.
"We believe Antelo will bring attractive, higher-end apartments to the larger community of townhomes and single-family residences being built at Erie Corner," MEQ principal Brian Bair said in a prepared statement. "The mix of housing types, pocket parks, and new commercial buildings built at Erie Corner intend to create a vibrant, walkable community that connects the neighborhoods to the west and the existing commercial and recreation facilities along Erie Parkway."
Antelo is the second portion of the Erie Town Center master-planned community to begin taking shape. Late last year, ground was broken on the first phase, which includes 50 single-family homes and 195 townhomes, to be built by the Colorado unit of Toll Brothers.
Forum's Boulder Valley resume, according to its online project portfolio, includes Boulder developments such as the Lofts on College, the Lofts on the Hill, the first phase of the Pearl Place office campus and TwoNineNorth apartments.
MEQ is the master developer of Longmont's South Main Station, part of the $70 million redevelopment of the former Butterball Turkey plant.
The project at Main Street and First Avenue began to take shape about a decade ago, but struggled early to gain traction. In 2015, the developer discovered that dirt from the turkey-plant construction contained coal ash, which can contain arsenic. Construction workers also discovered thick concrete columns extending up to 30 feet below ground that had to be dug up. Those delays were followed up by financing struggles a few years later that further slowed progress.
Over the last three years, however, South Main Station, which includes more than 250 apartments and more than 10,000 square feet of commercial space spread across six acres, has blossomed and now stands as the unofficial southern edge of Longmont's downtown.
Mass Equities is also the developer of Park 4040, a Frederick business and industrial complex that's expected to include more than 150,000 square feet of new commercial space.
The company recently purchased development rights from El Pollo Loco Inc. (Nasdaq: LOCO) to open 10 of the popular chicken restaurants in Colorado over the next eight years.
"The first restaurants are due by December 2024 for Larimer County and portions of Boulder, Broomfield and Weld counties," El Pollo Loco said in early May.
Source: BizWest