Denver developer plans workforce-housing apartments in Broomfield
BROOMFIELD — City officials throughout the Boulder Valley, including in Broomfield, have been clamoring for developers to build more units that are affordable for those who work but may not earn the level of wage necessary to afford the large, luxurious, or expensive homes that often dominate the local residential real estate market. Denver-based Ulysses Development Group LLC hopes to meet that community need with its proposed Harvest Station workforce-housing project.
The plan calls for 52 new apartments to be built at the northwest corner of Wadsworth Boulevard and 118th Avenue.
Broomfield's Land Use Review Committee is set to review a planned unit development amendment, final plat and site development plan for an estimated $30 million Harvest Station during its meeting tonight.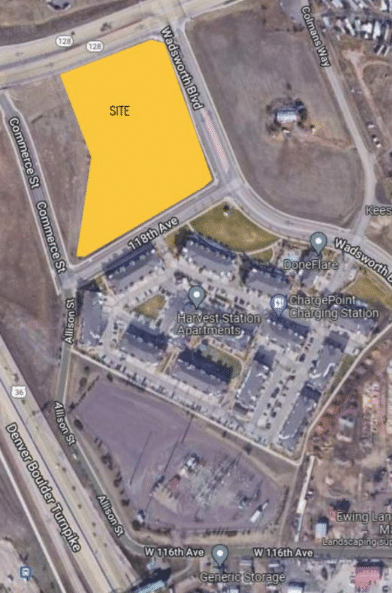 The apartments — a mix of one-, two-, and three-bedroom units, ranging in size from 600 square feet to 1,200 square feet — would be deed restricted for those earning 80% of the area median income. Broomfield's AMI is nearly $80,000 for a single-occupant household.
In addition to the homes, Harvest Station is planned to include a half-acre pocket park, a community room with workstations, flexible lawn space, an improved public park, playground, business center, indoor bike storage, telecommuting spaces and gathering areas, according to a city memo.
Ulysses's goal is to "accommodate working, cost-burdened families," the developer wrote in a letter to Broomfield planners. It's unclear what the company plans to charge for rent.
The builder, according to its website, has completed several workforce-housing projects, including University Plaza in Greeley.
Ulysses has faced pushback from neighbors on a similar, albeit larger, workforce-housing proposal in Douglas County near Parker.
According to a BusinessDen.com report, those neighbors, including one who said she "moved to Parker from Arvada to avoid multifamily housing," came out in force last month to oppose approval of the project by the Douglas County Board of Commissioners, which gave its blessing on a split vote. A group of residents is now suing the board to block the project.
In Broomfield, Ulysses plans to build its residential project on a site zoned for mixed-use development.
"The proposed multi-family residential use is not consistent with the intent of the land use assumptions for the mixed-use designation because it would allow full buildout for the property, and potentially the overall PUD, with residential uses instead of requiring a portion of the property/PUD to develop with non-residential uses," according to a Broomfield planning memo.
Because new residents require new government services, and because residential real estate is taxed at a lower rate than businesses, city staffers estimate Harvest Station could have an annual negative impact of $253,000 on Broomfield's coffers.
However, city staffers note in a memo, "this project does provide much-needed income-aligned housing that also helps to achieve the [Broomfield Comprehensive Plan, which provides high-level land-use guidance to city staff and officials,] goal of encouraging a diversity of population within the development by providing a variety of housing types."
Source: BizWest