Dead Guy Days post-mortem: Let's do it again
ESTES PARK — Frozen Dead Guy Days' first venture into Estes Park attracted overflow crowds on a mild, sunny weekend — and now its promoters are dying to do it again.
"I'm so happy, I don't even have the words," said Kara Franker, CEO of Visit Estes Park, the tourism-promotion agency that took on managing the quirky festival after Stanley Hotel owner John Cullen bought it in December for $250,000 from two women in Nederland who had run the event there until it outgrew the small Boulder County town.
The three-day version in Estes Park hadn't even concluded Sunday before tales of its success had reached Franker, Cullen and Mayor Wendy Koenig.
They related hearing that Cousin Pat's Bar and Grill reported its best Friday night ever — phenomenal news when one considers that this is March, not the summer season when Estes Park is swamped with visitors.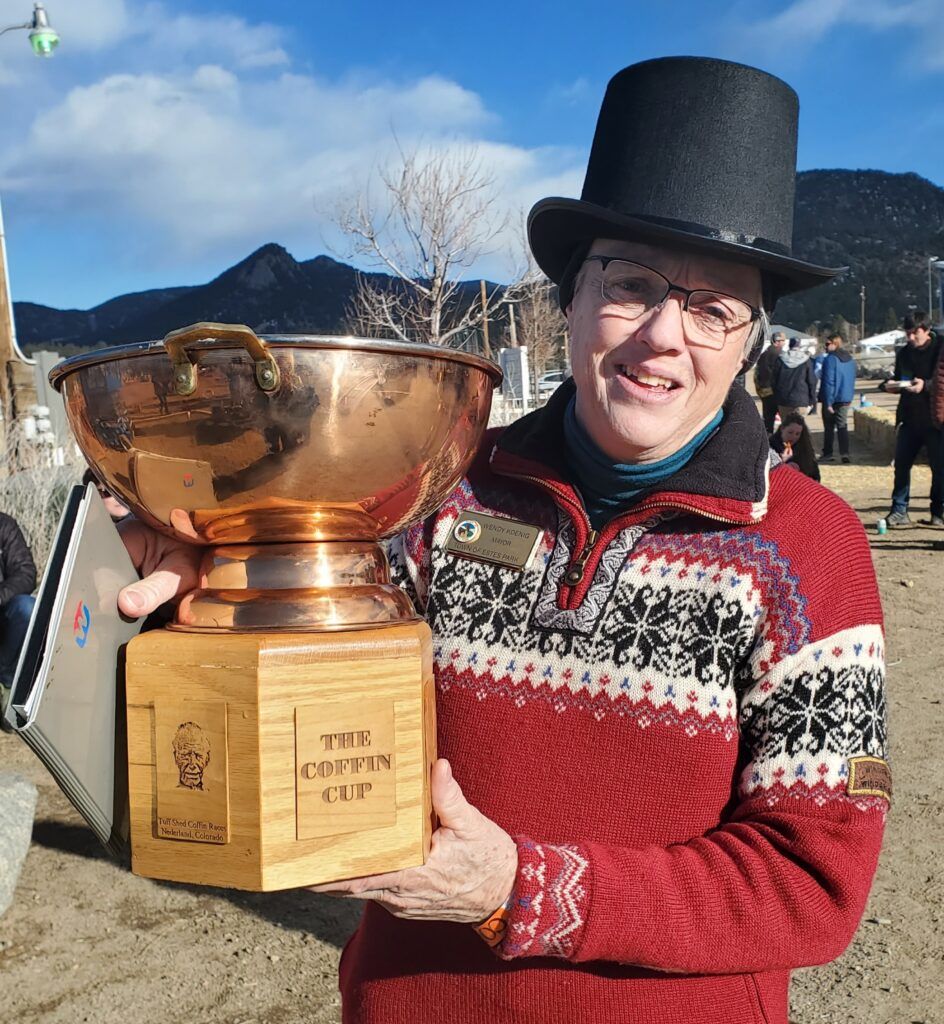 They heard about the Estes Park High School band members who charged $10 for attendees to park at the school and ended up making $9,500 that they'll use to travel to Disneyland for a competition.
They heard rumors that Lumpy Ridge Brewing Co. had sold out of its specially packaged cans of Frozen Dead Guy Days pale ale.
They heard that the shuttle buses that brought people in from other points in town, with the objective of easing the parking crunch, were full beyond capacity. "I had the team call the company to see if we could put two more shuttles in place," Franker said, "and to their credit, they did it."
And they saw for themselves that hours before Saturday's noon opening at the town's event complex, ticket holders were lined up for blocks. "We had to open up another entrance," Franker said.
The key to the event's success, all agreed, was that themed events were spread out all over town instead just at a main event site. There was a Polar Plunge into the Big Thompson River at Coffee on the Rocks, an Irish wake at Cousin Pat's, a Brrr-lesque show at Lonigan's Pub, "bloody brunches" at 21 different eateries on Sunday and live bands at a dozen places all three days.
"This wasn't a contained event," Franker said. "This was a template for how we can spread the love throughout the community."
"No matter whether the festival itself made money or not, we're thinking the sales tax revenue in the town is going to be about a half million dollars," Cullen said, "and that's about 3% or 4% of total revenue for the whole year.
"I walk down the street and usually when a store owner comes out they want to talk to me about something, but (on Saturday) they gave me a hug," Cullen said.
Although Cullen certainly profited from full rooms, restaurants and bars at the Stanley, he donated proceeds from the festival to workforce housing and child care for those workers, critical needs in tourism-dependent Estes Park that prompted voters to approve a lodging-tax hike in November.
Cullen recalled his sense of excitement mixed with panic when he bought the festival and then realized he had slightly more than 100 days to put it together.
"At first, ticket sales were hanging around 1,400, and I thought, 'Oh my God, if this thing doesn't work, I'm in real trouble. But then ticket sales went through the roof," Cullen said. "The whole town has embraced it. My worry 100 days ago was taken on by everybody in town. Everybody wanted a piece of the deal and the action and the responsibility."
Thinking about the festival's owners in Nederland, Cullen said, "I don't know how any one or two people, thinking about last year, could possibly do this. But here we've got an entire town of 8,000 people who are professionally in the tourism industry, and they took this, ran with it and made it happen. I'm more confident of the professionalism in this town than I've ever been in my 28 years of owning the Stanley Hotel."
The mayor even poked some good-natured fun at Cullen on Saturday afternoon.
"He's been telling me this is the way to do things," Koenig said. "You buy the adventure for everyone, and then you say, 'You take care of this and this and that, and I'll just sit up here in my hotel.' I think he's got a formula for something he's going to do quite often now."
Koenig also had praise for Visit Estes Park.,
"Kara's group was just amazing," she said. "I got 30 emails from them with details and making sure everything was going well. And you know what? They're happy. They had so much fun doing this, and people do so much better when they're having fun."
Added Franker, "Our goal was to pull it off, and I think we pulled it off and set the stage for bigger things to come."
Her board will consider what went right and wrong, and as of Sunday night she already had ideas for how to do things better next year.
To address complaints about intimidating food lines, she said, "we need to double or triple capacity for food and beverages, and create a layout where people aren't standing in line so long. We definitely felt the heat on that."
After consulting with the fire marshal about what capacity buildings in the events complex can hold, she said "we'll have to figure out how we make it bigger outside. More tents? Expand the square footage we have access to inside?"
She'll also seek better answers for the long entrance lines, but noted that even that headache had a silver lining. "Some people saw the line, went to the Bullpen or Cousin Pat's instead, and then came back — so the town still got the influx."
Her biggest hope for next year is that Cullen can move the cryonically frozen body of Bredo Morstoel, the deceased Norwegian man whose strange tale of being packed in dry ice in a Tuff-Shed prompted the festival to be born in Nederland, to the historic ice house at the Stanley.
"I've got one more trip to Oslo coming up" to meet with Morstoel's descendants, Cullen said, "and hopefully we'll have some blue ink on a deal soon."
His ambition, he said, is to "take this to the next level and really make this something like Burning Man, where it grows into an international music festival."
Franker said a 501(c)(3) nonprofit organization would be formed to rent the ice house from the Stanley and be responsible for the body.
Although organizers did everything they could to involve people from Nederland in the Estes Park event, Franker noted that "many people in Nederland are so disappointed that it left. Involving them up here, I guess, was a little like you getting a divorce, then your spouse gets remarried and invites you to the wedding."
The two towns' experience was even featured in a Wall Street Journal article on Friday.
"We involved Nederland organizers in a lot of what we were doing and appreciated the fact that they were willing to help us," Franker said. "I think there can be a friendly rivalry going forward, and it makes for a fun and interesting story. But we want to pay homage to what they've done. If it weren't for the original organizers, we wouldn't have the opportunity we have today."
Overall, however, is a general sense of joy that the event injected a big economic boost at a time of year between ski season and summer tourism season in which the town usually found itself begging for visitors.
"We've expanded the season with this," Koenig said. "I've lived here since I was 4 years old, so I know about shoulder seasons."
Besides, she said, "the winter's been kind of lousy, nonstop, and I think we needed a day like today, not just the community but everybody who attended."
And Frozen Dead Guys turned out to be a lesson for what Estes Park can do when the whole town gets involved.
"Sometimes when you're looking into a dark-hole abyss and you've got 100 days to put something together, you've got to have faith," Cullen said, "and a whole lot of friends in business."
Source: BizWest