CSU Spur opens final building on the eve of National Western Stock Show
DENVER — With the National Western Stock Show set to kick off just down the road, leaders in education, government and agriculture gathered Friday afternoon in Denver to celebrate the completion of the Colorado State University Spur campus' third and final building, the 122,000-square-foot, water-focused Hydro building.
The first-of-its-kind CSU Spur campus in north Denver connects visitors and students to educational experiences and careers in food, water and health.
"It's a campus that we hope will stimulate new ideas, research that will lead to new solutions and conversations between nontraditional groups that will lead to new approaches to solving problems," CSU System chancellor Tony Frank said.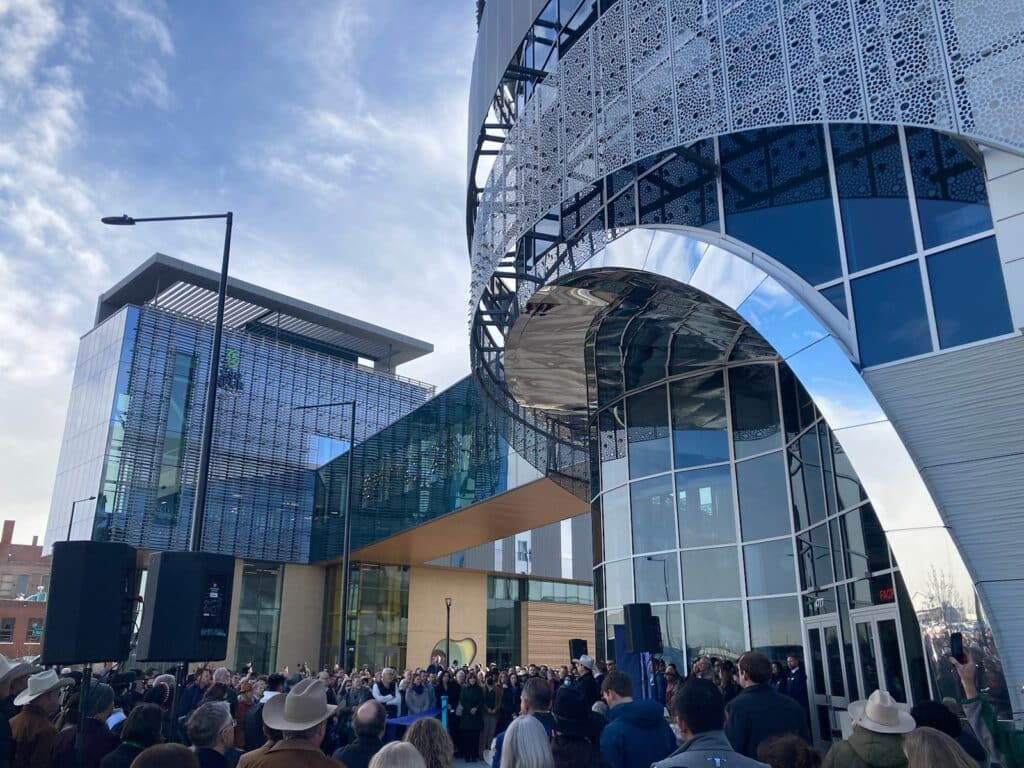 The first CSU Spur element, a 114,000-square-foot structure named Vida (Spanish for "life"), opened last January and is geared toward animal and human health. Then last June came the opening of the 60,000-square-foot Terra building, where agriculture and the food it produces are highlighted.
"It's one thing to see it on paper," Colorado Gov. Jared Polis said, gesturing to the Hydro building behind him, "but it's another to see this amazing force driving Colorado forward, driving our economy forward, driving sustainability forward and educating the next generation of stewards."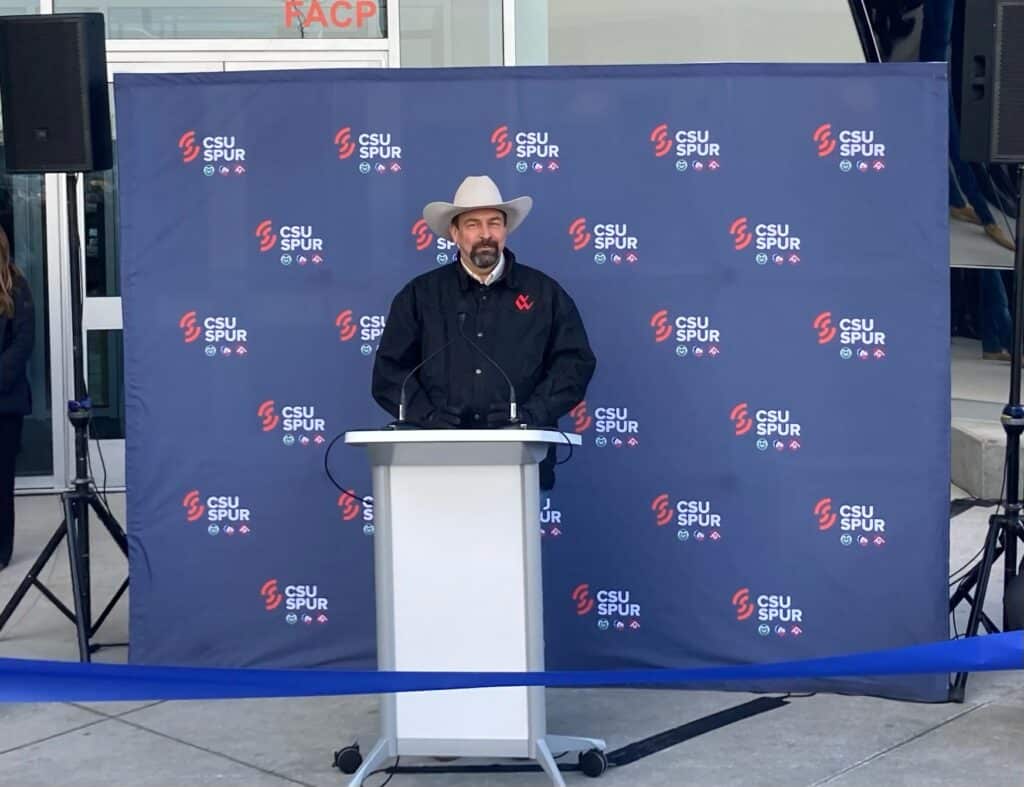 The Hydro building includes a cafe where some of the food grown in the Terra building will be served. Denver Water will operate a new water-quality lab on the third floor, and a gray-water catchment system will provide water to flush the toilets in the buildings as well as irrigation for plants and foliage in the adjoining "backyard" space that represent sustainable vegetation native to Colorado.
Sustainability in agriculture, food supply and energy generation has never been more crucial, U.S. Secretary of Agriculture Tom Vilsack said, citing Colorado's wildfires, the COVID-19 outbreak, the war in Ukraine and the increasingly consolidated power of corporate farm operators as evidence.
The entire Denver campus is the result of a decade of work by the university's Fort Collins and Pueblo campuses and CSU Global.
A partnership between CSU, the Stock Show, History Colorado and the Denver Museum of Nature and Science was formalized in late 2013, planning for the physical campus began in 2014, and in 2015 the state Legislature approved $250 million toward the project — $200 million for the capital construction and $50 million to the Fort Collins campus to develop Spur planning.
In September, the CSU System announced that 37 projects originating from the university will be located for at least the next year at CSU Spur.
"This is the latest, and in many ways, most significant manifestation of CSU's commitment to contributing to science, policy and discourse on water in Colorado," Frank said.
Source: BizWest