CSU economists: Liquors stores may have to adapt to compete with wine, beer-selling grocers
FORT COLLINS — Last week, Colorado grocery and convenience stores began selling wine, opening up a large new channel of competition for the state's liquor stores.
While this new competition is likely to take a bite out of liquor stores' customer bases, a shift in strategy in favor of greater focus on spirits, craft beer and wine, and local and specialty offerings could keep retailers in the game, a new study from economics professors at the Colorado State University posits.
The study from Nathan Palardy and Marco Costanigro found that since 2019, when Colorado grocers began selling beer, visitations at liquor stores have decreased by about 5%.
"It's not that much — they can absorb it," Costanigro said of liquor-store operators.
However, that decrease in visitation could double to around 10% with the introduction of wine in grocery stores, according to the CSU study, which used Oklahoma, a state that allowed both beer and wine sales by grocers in 2018, as a model for comparison.
"The policy changes [in states such as Colorado and Oklahoma] are part of a national trend towards liberalizing alcohol distribution and allowing sales in new market channels," the study said. "Trade associations on behalf of liquor stores claim that alcohol liberalization will result in the mass transfer of alcohol sales to grocery and convenience stores to the detriment of many small businesses. Policy makers are also concerned that a mass transfer will lead to consolidation in the retail tier of alcohol markets, ultimately reducing competition and harming consumers."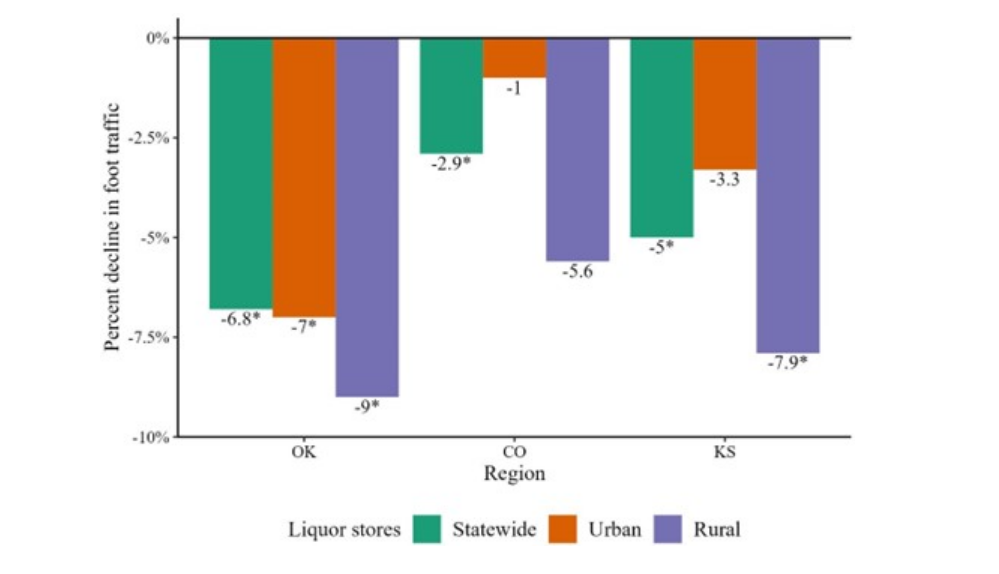 If Colorado liquor stores have a similar experience to their peers in Oklahoma, those concerns about competition contraction may prove valid.
"Once youre talking about a 10% decrease in visits … some stores are going to start to hurt," Costanigro said.
Regardless of the scope of the visitation decline ultimately experienced by non-grocery sellers, the introduction of new, often corporate-backed competition "won't be good for liquor stores — we can say that for sure," Bruce Dierking, general manager of locally owned Hazel's Beverage World in Boulder, told BizWest.
Only a few days after the law granting grocery stores the ability to sell wine, "there's not enough data to draw any inferences or anything," he said. "It's a little bit more of a guessing game of what [the impacts] might be, especially because a lot of grocery chains haven't fully rolled out" their wine aisles, displays and products. "A lot of them have a few case stacks here and there, but it's still pretty haphazard."
Dierking said his "best guess for smaller liquor stores that are directly adjacent to grocery stores" is that "if those grocery stores really lean into wine, they'll put people out of business within a couple of years."
A pivot in strategy could provide some hope for liquor stores because grocery stores don't carry the same variety of beer and wine and liquor sellers, nor do they sell spirits such as whiskey and vodka.
"Whether or not you were able to enter into the grocery store channel largely depended on your size and your scope of operations," Costanigro said. So while grocery stores certainly carry some craft brews, their shoppers are much more likely to be looking to grab a sixer of Coors Light than a growler of their favorite hometown nanobrewery's latest seasonal offering.
"Chain [grocery] stores don't really do craft, and they don't really do local," Dierking said. "And if they do, it's really just a minor nod to it rather than leaning into it."
Additionally, "spirits become a lot more important" for liquor stores, he said. "Spirits have been growing in popularity, as have ready-to-drink cocktails. I think there'll be a lot of stores that really lean into that and try to build their businesses around that."
The CSU study found that "liquor stores often carry a wide assortment of all alcohol types and provide knowledgeable staff that can help consumers make a selection. Consumers, therefore, may or may not change market channels depending on preferences and the purpose of the shopping trip."
Only time will tell whether liberalization of beer and wine sales will result in the crowding out of local liquor sellers, according to the CSU economists.
"It is conceivable that some liquor could start closing," Costanigro said. "But at the same time, some liquor stores could start specializing more in craft products as a strategy."
For now, the researchers can "conclude that partial alcohol liberalization has a substantial, but not catastrophic, effect on liquor stores."
That isn't necessarily the opinion of many liquor sellers.
"People are expecting it to take a huge chunk out of their business," Dierking said. "Some are doing proactive layoffs and trying to figure out how to cut expenses, dial back and downsize in order to hopefully still be viable with a lot less revenue."
Source: BizWest