Colorado adds jobs, but unemployment rate ticks up in August
DENVER — Colorado added 5,600 nonfarm jobs during the month of August while the unemployment rate bumped up above 3% for the first time in 15 months.
The monthly employment report from the Colorado Department of Labor and Employment, released Friday, showed the state's unemployment at 3.1%, up from the 2.9% of July. The U.S. unemployment rate also bubbled up — to 3.8% from 3.5% the previous month, said Ryan Gedney, principal economist for the CDLE.
In the Boulder Valley and Northern Colorado, Larimer County's unemployment rate was 3.2%, up a tenth of a percentage point from the prior month. Boulder County held firm at 3.3%, Broomfield County bumped up to 3.5% from 3.4% in July, and Weld County increased from 3.6% to 3.7% in August.
According to the state's household survey, the number of unemployed individuals grew by 4,700 over the same time period, to 99,800.
Colorado's labor force increased by 2,500 in August to 3,255,000, Gedney said. The share of Coloradans participating in the labor force remained at 68.7% in August, identical to the three months prior, Gedney's report showed. The U.S. labor force participation rate was 62.8% in August.
The state's establishment survey showed that nonfarm employers added 5,600 jobs during the month for a total of 2,916,000 jobs. Private-sector jobs grew by 9,100, but government employment declined 3,500. Because of the timing of the survey, new jobs added to schools for the fall may not have been reflected, Gedney said, which means that the numbers will be adjusted next month or show an extra increase in September numbers.
The leisure and hospitality sector showed the most gains in jobs at about 4,700.
Overall, Colorado's rate of job growth over the past year is 1.5%, which is behind the nation's rate increase of 2%.
The average workweek for Colorado nonfarm workers remained at 33.3 hours, and average earnings grew from $34.11 to $35.90. That's above the national average of $33.82.
Gedney said that the numbers are not concerning. "We might see unemployment tick up a bit, but I don't have many concerns," he said.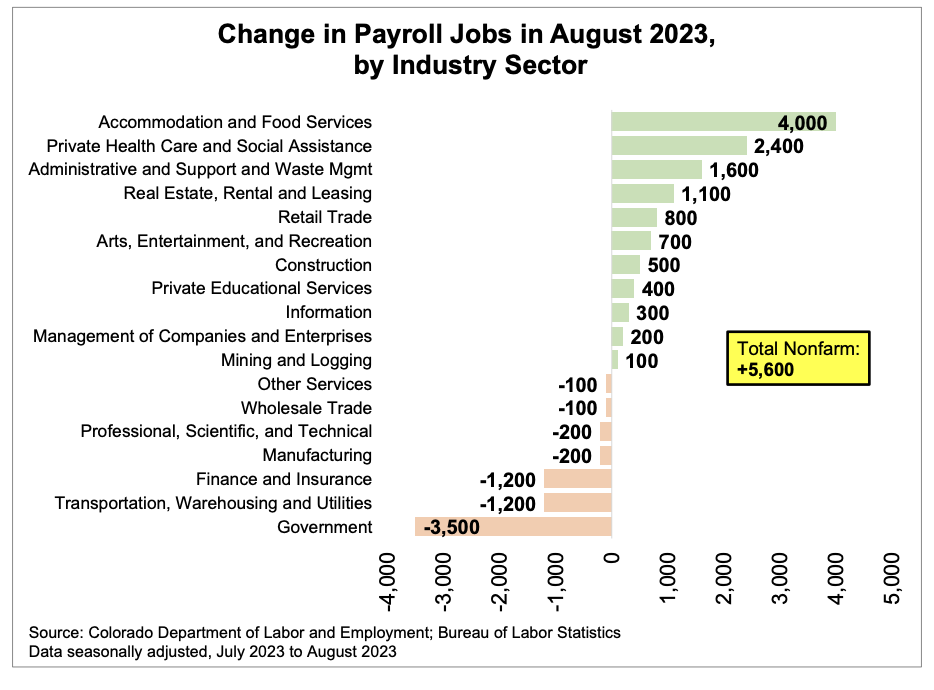 Source: BizWest