CEO Roundtable: Life-science companies seek to create awareness of cluster in NoCo
WINDSOR — Expanding life-sciences companies in Northern Colorado, some making significant headway in attracting venture capital to fuel their expansion, are hoping that their demand for quality lab space will gain the attention of developers seeking to do business in the sector.
That's what happened in the Boulder Valley, where millions of square feet of commercial biotech space is under development. Developers from around the nation got wind of the demand, and suddenly multiple projects were in the works, said Elyse Blazevich, CEO of the Colorado Bioscience Association.
Several executives from life-science companies gathered this morning at the Better Business Bureau Serving Northern Colorado and Wyoming to participate in BizWest's Life Sciences CEO Roundtable. Among the issues facing the industry: suitable lab space, especially as companies outgrow the incubator spaces offered through Innosphere in Fort Collins.
"The fact that demand was outweighing supply got national attention," Blazevich said of the Boulder/Broomfield experience. "So investors were putting their money here [in the Boulder Valley.] If there's more federal funding, more investment, more companies being developed that have a need for that next space, developers will come here [NoCo], too.
Rose Nash, chief operating officer for Burst-DX, a company that is working to produce low-cost diagnostic tools for the health care industry, said incubator space in Northern Colorado is "alive and well. It's really that next step when we grow out of our space. There really isn't much available in Northern Colorado," she said, noting that lab space can be very expensive to build. She did note that lab space without all the bells and whistles that Innosphere has offered is suitable for some applications and convertible spaces like that are available.
"My focus is on Fort Collins, because it provides the lifestyle where I want to live," Nash said.
Scott Wiley, CEO of Growcentia, which relocated from Fort Collins to Loveland last year, said an exhaustive search for space in Fort Collins turned up nothing.
"We went straight to the developer, McWhinney, and it came and listened to us. It brought a solution to the table," Wiley said.
Growcentia use microbes in the soil to maximize soil health, crop health and yields while minimizing environmental impacts of agriculture.
Wiley said that the cost difference of locating in a flex industrial building in Centerra versus building new in Fort Collins was substantial.
The group discussed how to create a greater buzz that's heard nationally about the significance of the life-science/bioscience cluster that exists in Northern Colorado.
Lisa Padilla, CEO and founder of Beryl Therapeutics, a company that is developing compounds to help with medical conditions such as osteoporosis, said she already thinks of Fort Collins as part of the bioscience cluster in this region. "I don't think of Denver as a life-science incubation hub. I think of Fitzsimons [life-sciences campus in Aurora] to Fort Collins, with Boulder along the way." She said resources available in Northern Colorado in some ways are superior to those in the Boulder area.
Blazevich said new developments in biosciences are happening up and down the Front Range with a lot happening at the Innosphere bioscience building in Fort Collins. "We'll continue to see that traction grow," she said.
The Colorado State University vice president of research, Alan Rudolph, said that CSU spins out six or eight companies a year from its research efforts.
He said that part of the growth in Northern Colorado is related to CSU's work on topics such as pathogens jumping from animals to humans and from issues such as the effect of wildfire smoke on people. These are issues that uniquely position the region for solutions, a different position than what exists in the Boulder area, he said.
Wiley said press coverage can be a game changer for a company. He cited a report about ag-tech activity in Colorado as being responsible for the U.S. headquarters of Intelligent Growth Solutions, a Scottish company, locating in Loveland.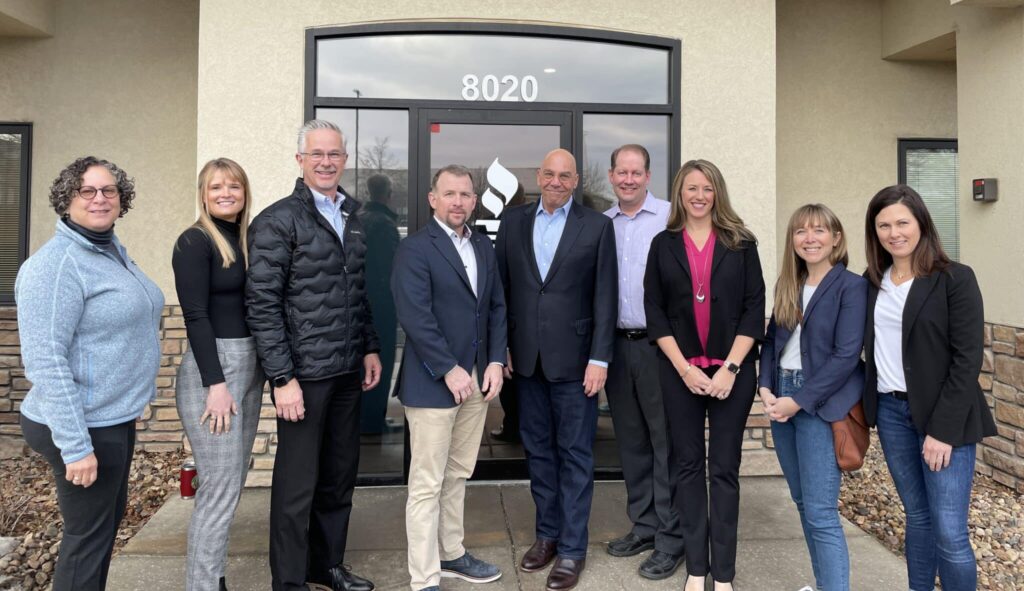 Headwinds for women-led companies
While all the companies represented at the roundtable were on the hunt for venture capital and grant funding, companies led by women face additional headwinds, said Lyndsey Linke, CEO and founder of SiVEC Biotechnologies, a CSU spinout company that using bacteria to deliver drugs to tissues in the body.
"There's an inequality in raising capital for female-led companies," she said. "I know that's an extra barrier that I face. I'm confident in who I am and what we're doing. We're a top emerging company."
"It's there," Padilla said. She described in some detail about being the only female in a group of bioscience companies at a conference and how she was excluded from an evening group activity.
"Why can't [others] look past us (as women) and look at the science?" she asked.
She said sexist attitudes tend to involve older members of the profession. "I look to the next generation. … A lot of studies show that men are promoted because of their potential, and women are promoted because of what they've accomplished."
Blazevich said that as a female founder of a company "that has raised $15 million in capital in the past year," that Colorado's culture is different from what may exist in other parts of the country. That "unique culture will help drive the conversation in the direction we want it to go," she said.
COVID fatigue
The COVID pandemic changed the industry in multiple ways, the group said. On one hand, it resulted in massive amounts of investment money — from the government and private interests — entering the industry. On another hand, investors have grown weary of hearing about additional COVID diagnostic tools.
"You can almost see people roll their eyes when a new COVID diagnostic comes forward." Nash said. Burst is exploring possible pivots for its technology, such as focus on wastewater to diagnose public health issues for an entire community.
Bill Wick, CEO of Vivaldi Biosciences, where every Fort Collins staff member is a graduate of CSU, said that the pandemic increased usage of virtual communications strategies, which can be both helpful and unhelpful. He bemoaned the lack of "water cooler" conversations.
Wiley said investor "receptivity is strong." But he noted that prior to the pandemic, investors wanted to be exposed to a lot of companies "in order to capture the winners. Now investors are trying to ferret out the quality."
In his ag-related industry, at one time investors were all about increasing yields because of worldwide population growth. Now, post-COVID, "how do we increase nutrition, with food seen as the original medicine."
He said there's worldwide interest in growing food indoors in hydroponic facilities, but that changes the flavor profile of foods and reduces nutrition. "So how do we produce healthy calories, not just gross calories?"
Linke, in her first-time effort to raise capital, said, "I hear this is one of the hardest periods for raising capital." She said venture capitalists want to protect their investments by putting money back into companies they've already supported instead of exploring efforts of new companies. She also said she's finding it challenging to raise capital to support development of infectious disease therapeutics.
"It's tough to find investors who get excited about infectious disease. I'm not sure if that's burnout [from COVID.]"
Jamie Haggard, CEO of Green Sun Medical, which produces a specialized brace for children with scoliosis, said he's seeing that companies interested in the past at one level are willing to write bigger checks now.
Still, the work to raise money takes a lot of effort. "You spend 80% of your time raising money and the other 80% doing everything else," he joked.
Kris Buchanan, CEO of RedDrop DX, a company working within the Innosphere incubator that is developing a device to collect blood samples in a pain-free, self-administered manner, said, "You're never not fundraising, I'm learning."
The BizWest CEO roundtables in Northern Colorado are sponsored by accounting firm Plante Moran, law firm Berg Hill Greenleaf Ruscitti LLP and Elevations Credit Union. Mike Grell represented Plante Moran at the meeting, Darin Atteberry represented Elevations, and Ashley Cawthorn and lead intellectual property attorney David Kerr represented Berg Hill.
Source: BizWest