CBRE: Boulder-Denver top 10 national biotech market
BOULDER — The booming Boulder-Denver life-sciences ecosystem has matured in recent years into one the industry's premier job markets in the United States.
The market, according to national commercial real estate brokerage CBRE's U.S. Life Sciences Research Talent 2023 report, ranks ninth-strongest in the country.
CBRE, which is active locally in biotechnology real estate leasing, site-selection and development space, used occupational and educational metrics such as talent volume and density, per capita Ph.D.s and employees with jobs such as scientific researcher, and university graduate output to determine the top 25 markets for life-sciences talent.
CBRE, in an effort to better serve its clients, examines a number of industries, but the life-sciences space stands as particularly critical for real estate professionals to understand.
"I would argue that for life-sciences, the facility itself is materially more important to the company (leasing or developing space) than in any other industry," CBRE senior vice president Erik Abrahamson told BizWest. If there's a hiccup with a biotech company's physical space and the system's held within it, "poof, you could lose a tremendous amount of research and intellectual property. The success or not of a company is so closely tied to the facility and infrastructure."
As the industry has evolved and new technologies such as "CRISPR, mRNA techniques and new approaches to gene cell therapy drug development have really made the sophistication of the facility that much more important," he said. "That's why (the industry) differentiates itself" from other users of industrial real estate in Boulder and around the country.
While coastal markets such as Boston/Cambridge, the San Francisco Bay Area and Washington, D.C./Baltimore make up CBRE's top three, the overall list is fairly well-dispersed around the country, from Seattle in the northwest to Miami in the southeast, with interior markets such as Pittsburgh and Minneapolis also well represented.
Boulder-Denver is the only non-coastal market in the top 10. Salt Lake City, ranked 18, is the only other Rocky Mountain region market represented.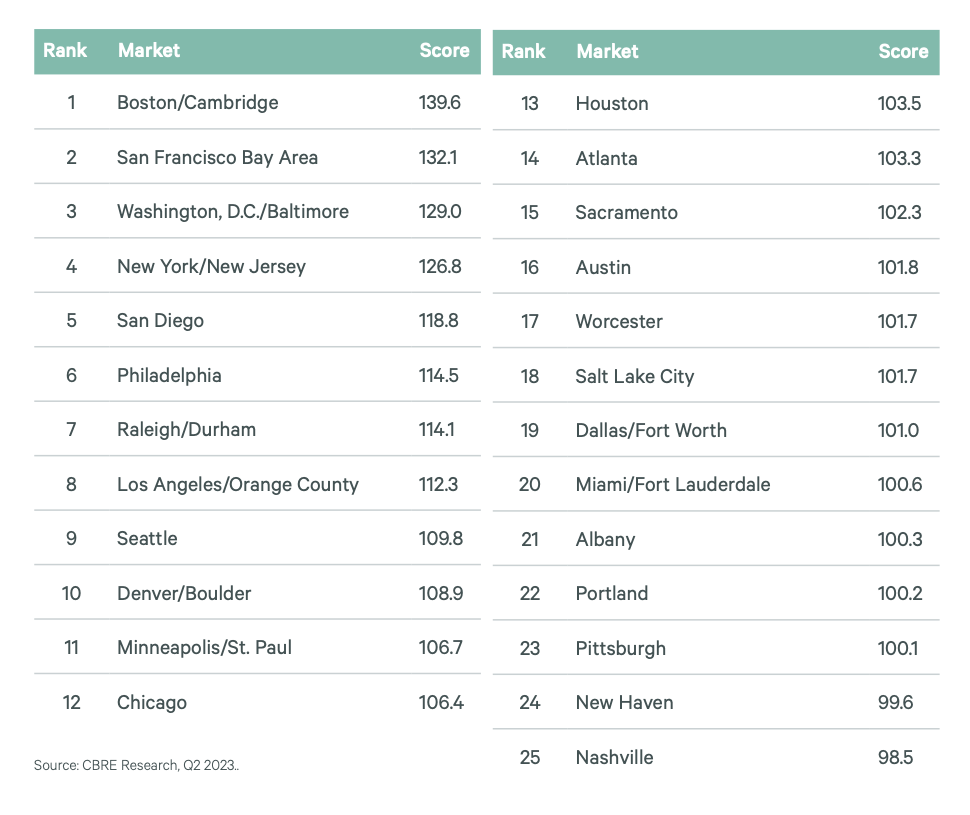 Compared with other nearby markets such as Salt Lake City, "we're more established, there's a longer history" of technology development and commercial success, Abrahamson said. "There's more of an ecosystem here," but "we're definitely paying attention to" other up-and-coming regions that could serve as competitors for biotech real estate tenants.
For decades, Boulder, led by the University of Colorado and a plethora of national laboratories, has been a national force in the research and development space.
"Demand (for commercial real estate square footage and industry workers) is often driven by this very specific type of chemistry and chemistry research that has been here in Boulder for a very long time," Abrahamson said. "… It's really driven by the universities."
As that lab work has spun out into the commercial arena, institutional players have taken notice, and the region is now home to some of the world's premier pharmaceutical and medical device companies, from AGC Biologics Inc. in Longmont to Medtronic Inc. in Lafayette to Agilent Technologies Inc. in Frederick.
This evolution has put the region in the company of the nation's biggest and most-prestigious biotechnology industry hubs.
In the Boulder-Denver market, 0.5% of all workers are employed in the biotech industry, up 35% since 2017, according to CBRE.
Nearly all categories of life-sciences workers earn an average annual salary in the six figures, with biochemists leading the way at $116,202.
While the Front Range, and particularly Boulder, is not known regionally for its affordable cost of living, prices are often much higher in coastal markets such as Washington, D.C.; Boston; and San Francisco. This relative affordability is a factor in the Boulder-Denver area's labor market strength, Abrahamson said.
Another factor is quality of life, he said. "The secret got out" years ago that the Front Range offers some of the highest quality of life in the nation. During the COVID-19 era, when employees exercised more agency over where they live and work, an influx of new, and largely highly skilled, workers dipped their toes in.
"It's easy to attract and retain people in the Denver-Boulder market," Abrahamson said, given "the access to the outdoors, the climbing, the skiing" and a host of other cultural attractions. "That's how we're competing" with some of the more established coastal markets.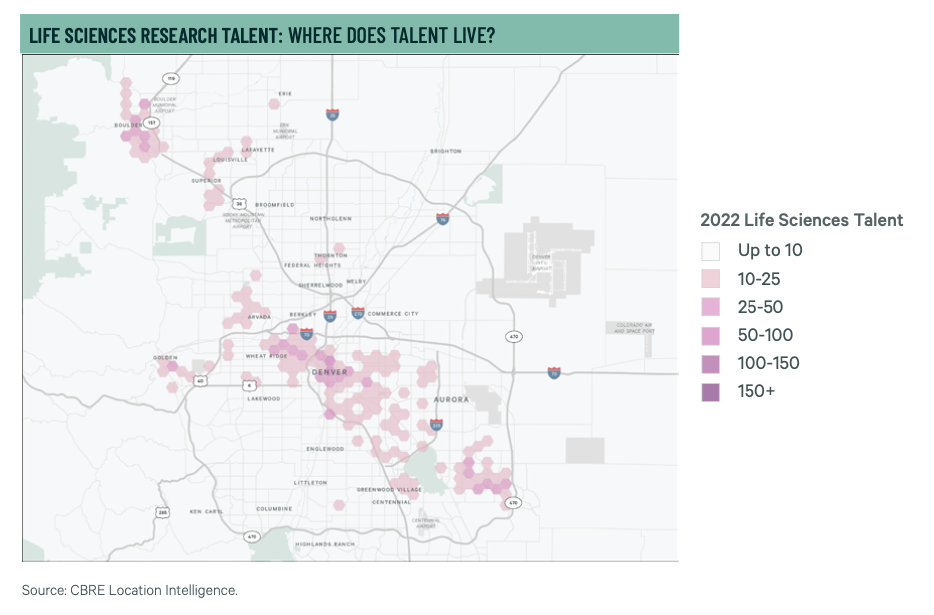 While certain demographic, regulatory and geographical considerations could someday serve as a governor for the development of life-sciences development in the region, Abrahamson said companies are not overly concerned.
"One CEO put it to me this way: There are enough scientists, researchers and employees to hire that he feels comfortable that he can build a team and keep a team here."
From a real estate perspective, the region has not been overbuilt, Abrahamson said. In fact, historically, the Boulder-Denver has lacked sufficient square footage to be a national force in the life-sciences space. That's changed.
"We now have owners who are developing and building out these facilities speculatively," he said, and "the market has become more sophisticated" in bringing online the kinds of spaces the institutional players demand.
Looking ahead, the Raleigh-Durham area of North Carolina, also known as the Research Triangle, could serve as a case study for the Boulder-Denver area.
"Raleigh-Durham has been a relief valve or an expansion location for a lot of the companies in Boston-Cambridge," Abrahamson said. "We have that opportunity in Denver-Boulder to be that relief valve for expansion for companies on the West Coast — your Seattles and San Franciscos and San Diegos."
He added: "I think you'll see over the next few years as the market evolves, it will be similar to Raleigh-Durham in that there will be a lot more pharmaceutical production" facilities that will exist alongside already strong local R&D operations.
Source: BizWest