Business helps offices become dog-friendly
Colleen Lyons-Cubides doesn't bring her own dogs to the office, but she appreciates it when her co-workers do.
"If you are having a bad day, or just had a bad phone call," said Lyons-Cubides, "you just go pet a dog."
Lyons-Cubides feels that herself, but she also pays special attention to the soothing affects office dogs have as the HR office manager for Animal Arts, a Boulder-based architecture company that specializes in designing places for animal care, including veterinary hospitals and clinics.
The business seems like a natural place for office dogs, right? Well, that's mostly true: Lyons-Cubides has worked there for three years, and they've always allowed co-workers to bring their dogs. And yet…
"When there are dogs," Lyons-Cubides said, "there will be conflicts."
She was, therefore, happy to work with Connected Canine, a company with headquarters in Boulder and McLean, Virginia. The company works with businesses to plan out canine-friendly office policies, avoid conflicts and even work with dogs that are having trouble.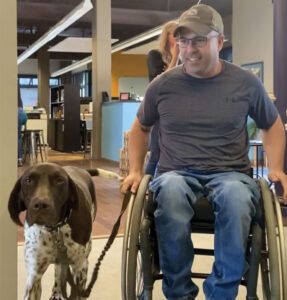 Troubled dogs are, in fact, what Ariel Fagen specializes in. She has her own practice in Boulder called The Veterinary Behavior Center, but she also works as Connected Canine's lead veterinary behaviorist.
Fagen admits right away that the office isn't for every dog, something Lyons-Cubides can attest to: Her two dogs, she said, like each other and that's it. But many dogs would love to spend their day with their people in the office, something that came into light more during the pandemic.
"With appropriate screening and guidance, it can be a really healthy move," Fagen said. "I was already treating patients who have a problem, so this seemed like a really cool opportunity to do some preventative medicine."
Indeed, Fagen steers dogs and their owners toward success with screenings, social tips and advice geared toward helping dogs understand what is expected of them in the office (HR, for instance, frowns on greeting co-workers by putting your two front paws on their shoulders).
"Sometimes it's just straight manners," Fagen said.
Connected Canine can also help develop a system to avoid conflicts, including an online portal for co-workers to reserve a spot in the office. This can help dogs who don't like each other avoid time together (and don''t you wish you could do that with a co-worker?) The company also develops ways to ensure all dogs have had their shots and avoid awkward or even scary greetings with co-workers who don't like dogs.
Bringing a dog to the office is not only good for co-workers, Fagen said, it's good for dogs.
"Dogs were not designed to sit at home alone all day without a social partner," she said. "Under-stimulation and boredom are real problems. They are social beings."
Connected Canine is in a "strong growth phase," Fagen said, as more offices are hoping to bring employees back with perks such as allowing their attached dogs in the office. She sees the potential to host nationwide workshops, and the company offers a free, custom-designed pet policy for offices that reach out to them (info@connectedcanine.com).
"It feels like everyone is a hybrid situation," Fagen said, "and the business world is still figuring it out. Some businesses have made the decision to get workers back into the office, so now there's a ton of interest."
Source: BizWest