BNSF project could pump billions into economy
WELD COUNTY — BNSF Railway Co. Inc.'s plans for a massive Weld County intermodal facility and logistics park could transform the area into a regional logistics hub, pumping billions of dollars into the state's economy.
And its impact likely will extend well beyond Weld County, potentially proving attractive to companies within hundreds of miles, according to a site selector who has worked with railroads.
"This sort of thing benefits not just Weld County, but, depending on the geography and circumstances within the community, it can benefit surrounding counties going out a couple of hundred miles because companies will see that they have reasonable enough access to an intermodal facility and rail freight," said Jerry Szatan, a site sector with Chicago-based Szatan & Associates.
"From my perspective, and more importantly from my clients' perspective, it becomes attractive for a company that needs to have access to rail service, whether they're bringing containers or some other sort of freight in or whether they're shipping their goods out," he said.
BNSF plans a 2,700-acre intermodal facility and logistics park between Hudson and Lochbuie, along Interstate 76 and the BNSF railroad line. The project will be in addition to the existing, 430-acre Logistics Center Hudson on the north side of the town.
The railroad two years ago filed 10 eminent-domain lawsuits in Weld County District Court to acquire portions of the land, with six of those lawsuits completed. Four cases remain open as the railroad negotiates purchase price, but BNSF has been granted immediate possession of those properties as well.
An intermodal facility is one in which the same containers can be used on two or more modes of transportation, including rail and trucks. The process allows for highly efficient transportation of goods, either incoming freight or goods produced locally for transportation around the country or internationally.
BNSF, Upstate Colorado Economic Development and the Metro Denver Economic Development Corp. conducted a three-day event, June 19-21, for site selectors, governmental officials, developers and economic-development representatives.
The group toured BNSF's Logistics Center Hudson, which opened in 2020, as well as the site of the intermodal facility, and took a special BNSF train to the Kansas City area to view an intermodal facility in Kansas.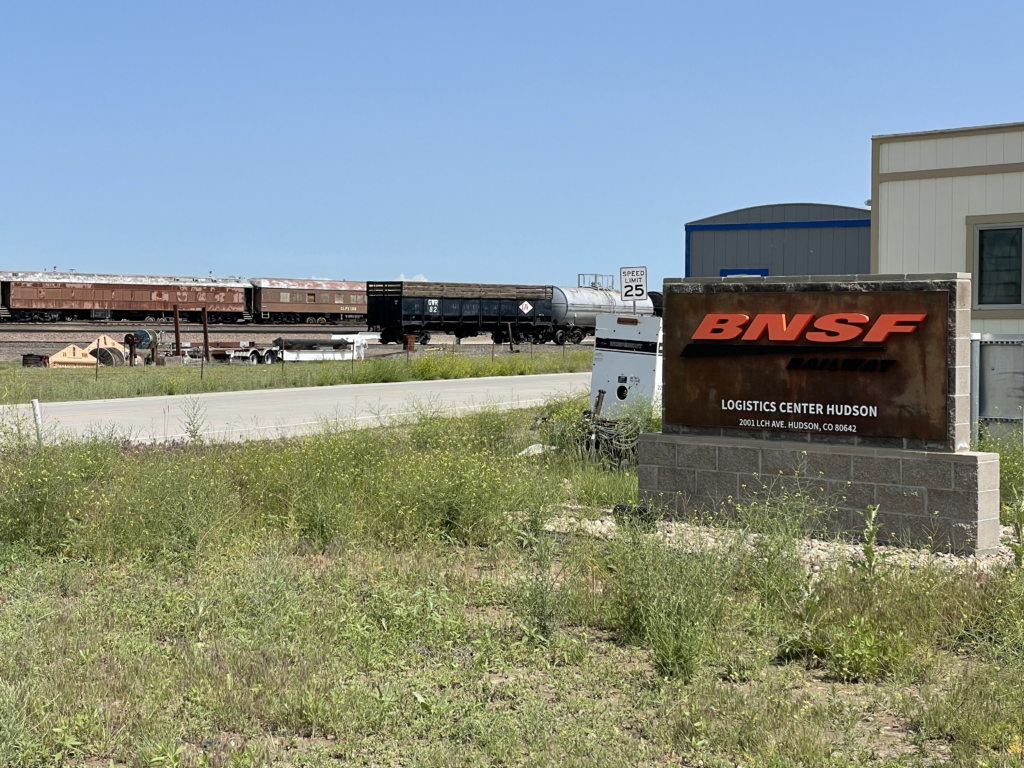 BNSF has closely guarded details about its plans. Rich Werner, president and CEO of Upstate Colorado, declined to comment on the project. Raymond Gonzales, president of the Metro Denver EDC, did not return a call to BizWest. BNSF officials have not responded to requests for comment.
But the magnitude of the project is clear from sources familiar with BNSF's plans, as well as from emails obtained through Colorado Open Records Act requests submitted by BizWest to the town of Hudson.
The Weld County facility could have capacity for 20 million square feet — or more — of space to be developed for industrial and warehouse operations, with one local official saying that it could produce 10,000 to 20,000 direct or indirect jobs.
Such numbers don't surprise one site selector.
"Typically, any intermodal facility is a significant capital investment, and anybody who's developing an intermodal facility wouldn't unless they thought that the economics, that return on investment, was worthwhile," said Jay Garner, president and founder of Georgia-based Garner Economics LLC.
Garner said it's "not unusual" for an intermodal facility to encompass that amount of square footage.
"You can't make any money in an intermodal facility unless you have a large scale," he said.
But the overall economic impact will depend on the targeted industries, he said. If it's mostly warehousing and distribution — which is heavily reliant on robotics — it would have less of an economic impact than manufacturing facilities would produce.
"So it just depends, because a lot of the distribution is now automated and heavily robotic," he said.
Colocating intermodal, logistics park
Key to BNSF's strategy with its recent developments is to couple the intermodal facility — where freight will be transferred between rail and trucks — with a logistics park for rail customers.
BNSF CEO Katie Farmer recently described the company's intermodal strategy at the winter meeting of the Midwest Association of Rail Shippers in Lombard, Illinois.
"The concept is still unique to the industry," Farmer said, as quoted in a January article on Trains.com, "that we would use an intermodal hub and acquire property adjacent to that facility, using the intermodal hub as our anchor, and co-locate our customers' terminals, distribution centers, and warehouses. And what we saw was that we were able to improve speed to market for our customers; reduce costs in general; reduce fuel costs; improve the sustainability of the product; and that translated into growth."
A March 2023 article in the Phoenix Business Journal, outlining the potential economic impact of a planned BNSF intermodal facility in Surprise, Arizona, cited potential construction of 30 million square feet of space for that facility, with 11,500 construction jobs and $1.5 billion in one-time construction economic impacts.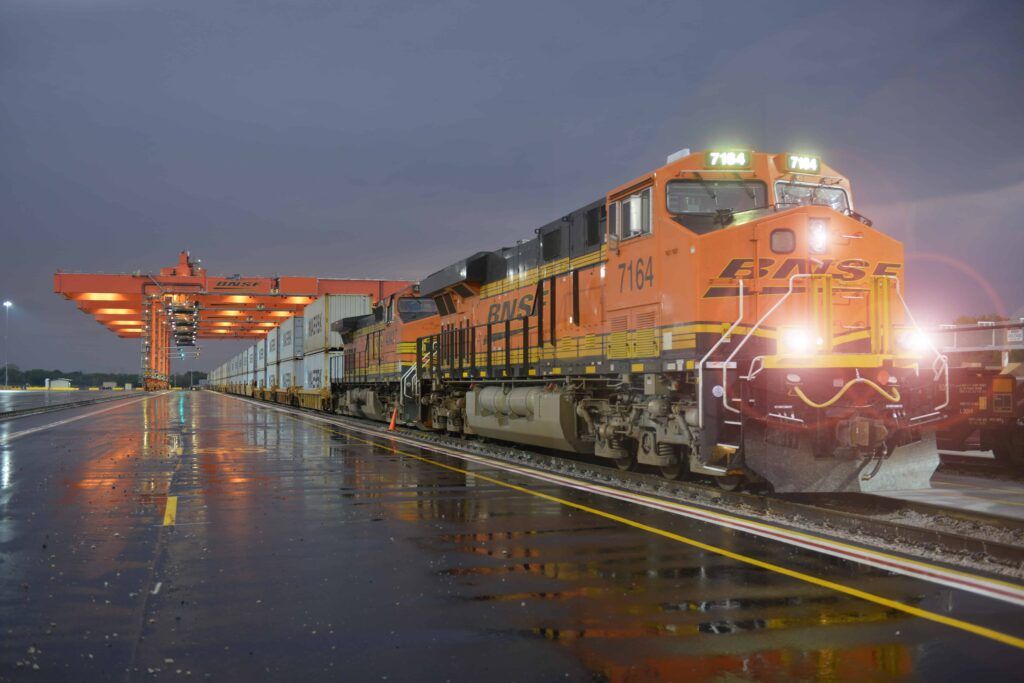 And that's just the beginning. An August 2021 study titled "NE Kansas Logistics Cluster — Statewide Impact," prepared by the Center for Economic Development and Business Research at Wichita State University's W. Frank Barton School of Business, concluded that the northeast Kansas logistics cluster has resulted in billions of dollars in economic impact.
The northeast Kansas logistics cluster is anchored by BNSF's Logistics Park Kansas City — the same facility toured by site selectors and Colorado dignitaries last week.
"With the assistance of local economic developers and third-party research, this report has estimated that the twenty-nine logistics-related firms within the LPKC have an estimated 4,735 full-time equivalent workers in this sector," according to the study.
And the park has also generated a significant number of spinoff jobs.
"The study findings show that the firms at the LPKC have a significant impact on other businesses within the three-county area, supporting over 3,800 jobs, ranging from grocery stores from household purchases to increased business to business demand for banking, freight forwarders, and security services," according to the report.
Statewide, according to the report, Logistics Park Kansas City directly or indirectly drove employment of 9,789 jobs in 2020 and generated $593 million in labor income, with a total economic output of almost $2.1 billion.

Transportation, logistics a boon for Colorado
Rachel Rose, strategy and analytics senior manager with the Colorado Office of Economic Development and International Trade, in comments emailed to BizWest, highlighted the importance of the transportation and logistics sector to the Colorado economy.
The sector includes 19,700 transportation and logistics companies operating in the state, with 232,300 employees as of 2022, generating $44 billion in economic impact on total sales of $78 billion.
"Colorado's transportation and logistics industry is an integral part of the state's economy, supporting the manufacturing base and distribution sectors," Rose said. "Colorado's transportation and logistics industry is enabled by multimodal transportation elements that are privately and publicly owned and operated."
Railroads are "vital to Colorado's economic health and global competitiveness," she added, transporting 13% of all freight handled in the state, with much higher percentages for commodities such as coal, chemicals, wheat, grain and paper products.
Environmental, traffic benefits cited
Weld County Commissioner Lori Saine, who represents District 3, including the Hudson/Lochbuie area, said BNSF's Weld County project could prove an environmental and traffic boon for the region, reducing the number of truck trips needed for shipment of goods.
"The fact that rail can move so much more goods, with a lot less pollution … it's more efficient and keeps traffic off of our roadways," Saine said. She said rail traffic can reduce greenhouse gases that would have been generated by truck traffic.
"I think it's really going to be a benefit from many, many angles," she said.
"We've got a lot of goods and services that are moving in and out of the state right now, but the way that it's being done is a lot less efficient than rail," she said.
Saine noted that Weld County is working with BNSF and the Colorado Department of Transportation on a potential new interchange at I-76 and Weld County Road 8. The county also hopes to facilitate discussions of a "collaborative planning solution" involving the county, Hudson and Lochbuie.
Both towns could supply the BNSF facility with water and sewer, but BNSF has not yet determined into which community it will seek to annex.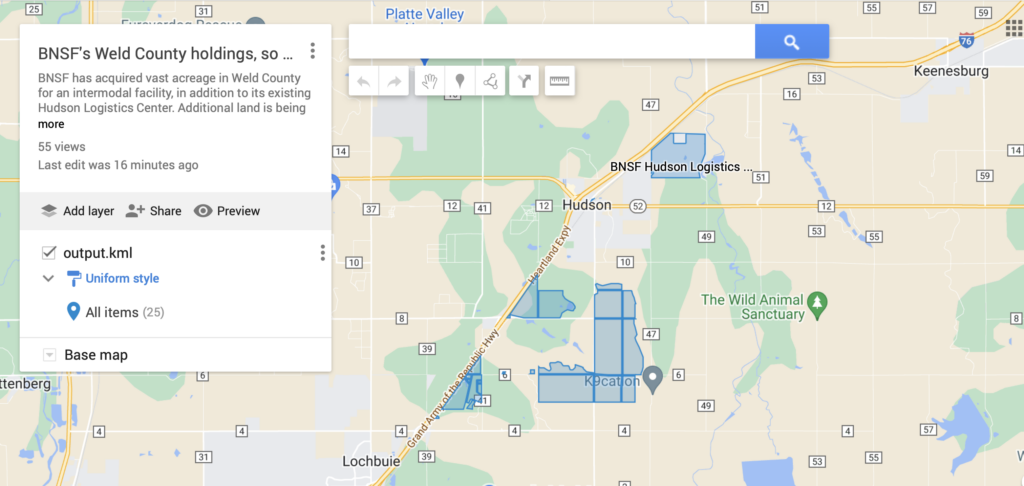 Source: BizWest