Bennet, Neguse tour Electra's new Boulder facility
BOULDER — Just seven months after emerging from stealth mode, Boulder-based Electrasteel Inc., which does business as Electra, is stepping even more into the limelight.
The company Friday hosted a tour for two of Colorado's congressional delegation, U.S. Sen. Michael Bennet and Rep. Joe Neguse, who represents the 2nd Congressional District, including Boulder, Broomfield, Larimer and seven other counties.
Electra, founded by CEO Sandeep Nijhawan and chief technology officer Quoc Pham, has developed technology to produce iron and steel using less energy and with more-abundant material.
The company uses an electrochemical process to refine low-grade iron ore — treated as waste in traditional refinement processes — into high-purity iron, lowering the process temperature from 1,600 to 60 degrees Celsius. Coal energy is replaced with intermittent renewable energy, and the resulting pure iron can be converted to steel.
"We are a clean-iron company," Nijhawan said. "We produce clean iron for clean steel."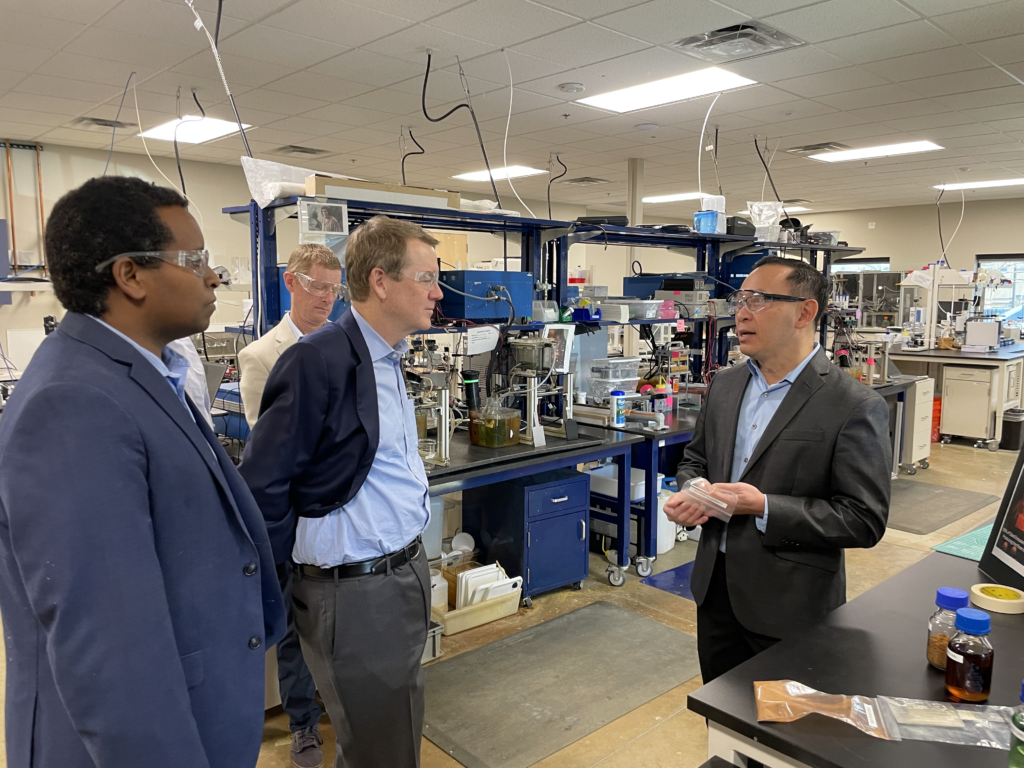 Electra has hit several milestones recently, including raising $85 million and expanding at 6400 Lookout Road in Boulder's Gunbarrel neighborhood, encompassing more than 60,000 square feet and occupying the entire building.
Electra is building out a prototype within the building, scheduled for completion by the end of 2023, with plans also to build a demonstration project, preferably at an abandoned power station or mine.
The $85 million funding round was led by Bill Gates-backed Breakthrough Ventures, with additional funding by Amazon, BHP Ventures, Temasek, S2G Ventures, Capricorn Investment Group, Lowercarbon Capital, Valor Equity Partners, Baruch Future Ventures and others.
Nijhawan described the magnitude of the challenge posed in decarbonizing iron and steel production. The steel industry produces about two billion metric tons of crude steel annually, causing 3.7 gigatons of carbon-dioxide emissions each year.
Conversion of iron ore accounts for 90% of steelmaking emissions, Nijhawan said, with the potential to eliminate such emissions using the Electra process.
The technology can play a significant role in global decarbonization and enable the U.S. to become a net exporter of steel, rather than importer, he said.
Tim Wolf, president of Wolf Interests Inc., a Boulder-based investment group, and an advocate for Electra, said the company can play an "essential part" in shifting toward a clean-tech, clean-energy future.
"The implications for Colorado, our country and our world, actually — there's jobs and value in carbon reduction — are pivotal and really extraordinary," he said. "Colorado has been an innovator for so many things, so why not this?"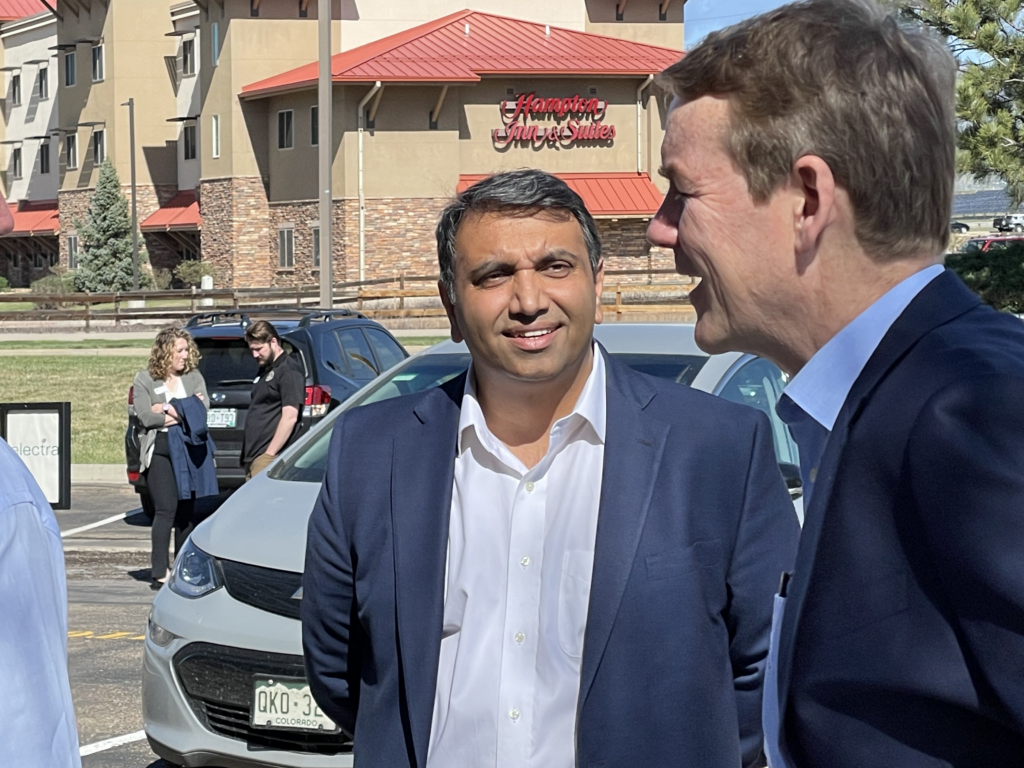 Bennet described decarbonization of steel production as "one of the toughest nuts to crack" for innovators.
"If you did a study of the transformation that we have to make on climate in this country and the world over the next 25 years or so, industrial processes are some of the hardest ones, the toughest ones, the ones where there really isn't an answer today," Bennet said. "We have to invent the answer. The manufacture of steel is one of those that has eluded the innovators in our economy so far, but it is a central part of what we have to do and to see the work that's already been done by this startup here in Boulder to imagine a world where we're producing steel with green energy in a way that scalable across the world is exciting for Boulder and exciting for Colorado, but I think also the world, the potential for our country to be able to become an exporter of steel."
Neguse said he was "proud that this kind of innovation is happening in the 2nd Congressional District and to know that in our backyard, you have some pretty innovative techniques that are being developed that could ultimately unlock the future as far as expediting our transition to a renewable energy future."
Nijhawan said Electra employs 80 people at the Boulder operation and could double in employment if it can find enough talented engineers, chemists and other skilled workers. Electra also maintains a small operation in Boston.
And the company likely will look to raise even more money. Nijhawan said Electra is "quite well capitalized. But at the scale this is going to happen at the speed we want to happen, we definitely want to raise more capital."
Bennet and Neguse credited several congressional bills passed into law last year for supporting innovation in new technologies and initiatives to address climate change, including the CHIPs and Science Act, the Inflation Reduction Act and the Bipartisan Infrastructure Bill, elements of which are being targeted by Republicans for spending cuts.
"One would hope that our colleagues on the other side of the aisle in Washington, would see the light and cooler heads would prevail and they wouldn't pursue this path of draconian and cruel cuts across the board, not just with respect to some of the key climate issues but veterans health care, food assistance," Neguse said, adding that, "obviously it's a concern."
"I think it's deeply self-destructive," Bennet said. "I don't really understand why these folks are doing this. We worked incredibly hard in the Senate and in the House to get, you know, among other things, $270 billion of tax credits for wind and solar for carbon capture," which he said provided a 10-year runway for the industry.
Source: BizWest