Ball to sell aerospace division to British firm for $5.6B
WESTMINSTER — Ball Corp. (NYSE: BALL) is selling its Ball Aerospace and Technologies Corp. division to British aerospace company BAE Systems PLC for $5.6 billion.
"Since 1956, generations of dedicated Ball Aerospace colleagues have transformed a business of humble beginnings into a thriving enterprise offering innovative capabilities in a world that needs rapid, scalable technology solutions. In recent years, the business has positioned itself to have an even greater contribution to customers' missions and delivered fourfold growth and record levels of combined contracted and won-not-booked backlog," Ball CEO Daniel Fisher said in a prepared statement. "The complementary cultural fit of Ball Aerospace and BAE Systems and their combined position as a pure play aerospace and technologies company will leverage Ball's recent investments in talent and facilities located across the country and centered in Boulder, Broomfield and Westminster, Colorado, to provide a multi-dimensional platform for vital national defense, intelligence, and science hardware, software, and space-based assets."
Fisher told investors Thursday that "Ball, going forward, will be a pure-play aluminum packing leader."
Ball leaders said Thursday that they plan to use proceeds — after taxes, the windfall is expected to be $4.5 billion — to buy back stock and provide shareholders with dividends. The deal will also help Ball reduce its debt.
"In a higher interest rate environment, taking off debt makes sense," Ball chief financial officer Scott Morrison said during a conference call with investors on Monday.
"With what transpired with the Russian event and the European backdrop, and rising inflation and interest rates our stock's gotten pressed, pressed to a point where it was quite clear that the value of this aerospace business was not adequately reflected in the value of our stock," Fisher told investors. "We need to do our job as owners to make sure we have the appropriate share value for the assets that we hold."
In September 2022, months after Russia invaded Ukraine, Ball sold off its Russian beverage-packaging business for $530 million.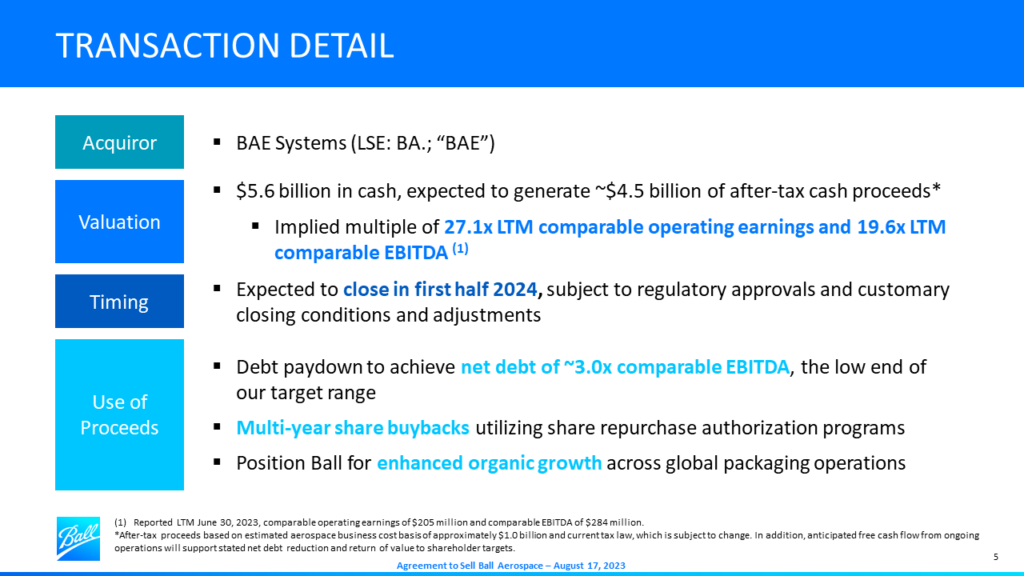 "Aerospace is not a hugely cash-generative business," Fisher said, and offloading the division allows Ball to focus on its can manufacturing business.
"Executing our strategy of enabling the greater use (of) circular aluminum packaging on a global scale continues. Our acceleration of low-carbon, best-value aluminum packaging initiatives in the years to come will stimulate organic growth across our global packaging operations and improve the world for future generations," Fisher said in a prepared statement. "Our innovative portfolio of aluminum cans, bottles and cups for single-serve, refill, reuse and recloseable applications has untapped potential, and we look forward to unlocking that value and delivering sustainable compounding shareholder growth now and beyond."
Increased attention to cans could help Ball's bottom line, according to Zacks Equity Research, as customer-preference has begun to shift away from plastic bottles, which are now seen as less environmentally friendly than cans.
Ball, Zacks analysts said, is projecting global can volume to grow at an annual rate of 4% for the "foreseeable future," and the company must beef up its capacity to meet that demand.
Ball's production capacity took a hit last year when it offloaded its Russian beverage-packaging business to the Arnest Group for $530 million. The move came amid an increasingly hostile global attitude toward companies doing business in Russia, which was then and remains today at war with neighboring Ukraine.
There could be as many as 100 million new units produced globally by 2025, according to Zacks, and Ball thinks it could be responsible for manufacturing nearly half of that total.
Ball recently used its backyard as a proving ground for a new, metal beverage product that aligns with consumers' increased eco-consciousness: its line of recyclable aluminum cups, which made their public debut in 2019 during the University of Colorado football team's home opener against the University of Nebraska.
Ball spent seven years developing the new cups, which are designed to be more environmentally friendly than the plastic cups typically used at stadiums. The company in 2019 opened a new manufacturing plant in Georgia dedicated to production of the aluminum cups.
The story of Ball Aerospace goes back 53 years to 1956, when Ball Brothers Research Corp., as the company was then known, took Boulder city officials up on their push to recruit companies to a new industrial park east of town.
Upon arriving in town, staff with Ball Corp., then based in Muncie Indiana, learned about local scientists doing military research on space exploration at the University of Colorado in what would later be known as the Laboratory for Atmospheric and Space Physics.
They had discovered how to build a stable platform to attach equipment and cameras to rockets sent into the upper atmosphere. Ball's Boulder team, led at the time by R.C. "Merc" Mercure, saw an opportunity.
By 1959, the company had built the nation's first orbiting solar observatory for a new government agency called the National Aeronautics and Space Administration, or NASA.
More than six decades later, nearly 1,000 Ball Aerospace employees work from the company's Boulder campus, a total that could roughly double in the next 10 years with the expansion of Ball's Arapahoe Road operations.
Now that Ball Aerospace and Technologies Corp. is severed from the parent company, it's unclear what impact that would have on the Boulder expansion effort. Company representatives did not immediately respond to requests for comment Friday.
Ball Aerospace, according to plans approved by Boulder city officials last year, intends to add 310,000 square feet of new building space to its campus at the roughly 27-acre site on the north side of Arapahoe Road between 48th Street and Range Street. That would bring the total square footage to just under 751,000.
In 2019, Ball — the parent company, not specifically the aerospace division — broke ground on a new four-building, 186,000-square-foot Westminster headquarters located at the existing site of Ball's Packaging Office Center at 9343 W. 108th Circle in Westminster. The same year, the firm unveiled plans to add 137,000 square feet of office and research and development space to Ball's existing roughly 121,000-square-foot Broomfield R&D operation on 10 Longs Peak Drive.
Source: BizWest