GREELEY — When the former downtown Greeley library was redeveloped as part of the construction of the DoubleTree by Hilton hotel, officials with the High Plains Library District knew the area needed a new permanent library.
Now, that project is close to fruition. When the new Library and Innovation Center opens at 501 Eighth Ave. in the first half of next year, it will be a unique facility unlike anything the district has built before.
It will be a testament to the progress that downtown Greeley has made in recent years as the district has grown rapidly with new businesses, new developments and more residents. The hope is that it also serves as a spark that brings more commercial and residential development to downtown, said Matthew Hortt, executive director of the High Plains Library District.
"A lot of the investments already made in the downtown area will draw people here," Hortt said. "I think we are going to be a part of that catalyst."
Bianca Fisher, executive director of the Greeley Downtown Development Authority, said the area has remained busy and vibrant through the economic turmoil of the past few years.
"This year we've seen an absolute rebound with huge turnouts and crowds," Fisher said. "It brings anybody and everybody downtown. There's stuff for the kiddos, food vendors, music, drinks. It's just been an absolutely fantastic response."
The new Library and Innovation Center, or LINC for short, will be at the center of that vitality. Housed in the former Greeley Tribune building that is undergoing extensive renovations, the goal is for the library to be unlike any other in the area.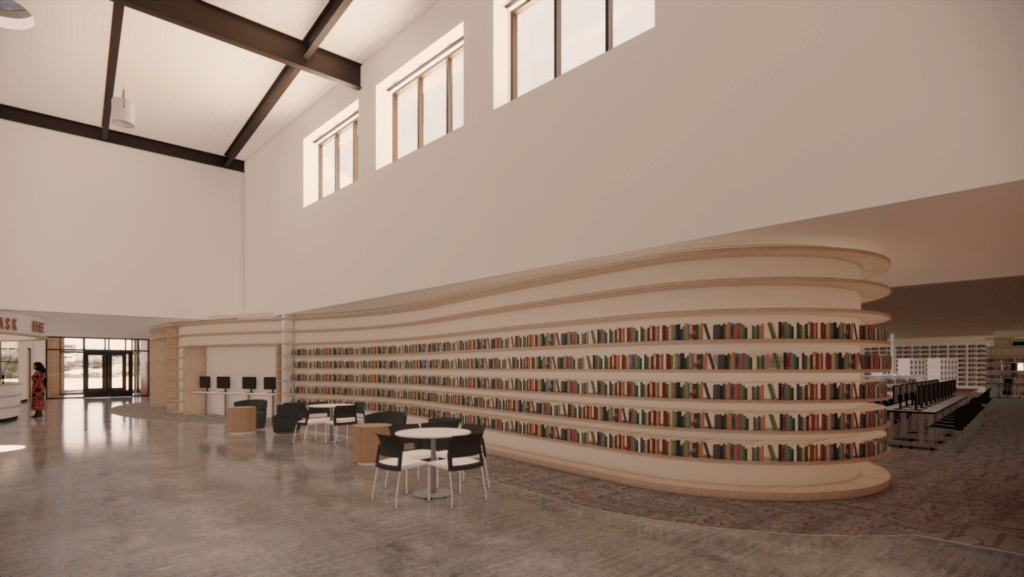 "Things are changing," Hortt said. "There are new developments and redevelopments, and the DDA is really consciously trying to help that next evolution of downtown Greeley. When we started talking about bringing a new library downtown, we wanted to incorporate this need for skills-based development and tie the arts in and have a place that redefines this whole library district."
Throughout the library will be maker spaces and innovation centers with laser cutters, 3D printers, woodshops and wet and dry workshops, Hortt said. It will also feature soundproof recording studios for audio and video, art installations and hands-on exhibits created in collaboration with the Denver Children's Museum.
The size and layout and rugged construction of the former Tribune building, with its large open spaces that used to house a heavy printing press, is integral to the library being able to pull off such an ambitious project, Hortt said.
"We looked at a few different locations, but when the Tribune building became available, it helped us to think bigger," Hortt said.
Other nearby businesses are excited about the potential benefits of having such a unique, innovative neighbor that draws visitors from around the area. WeldWerks Brewing Co. is located across the street from the LINC at 508 Eighth Ave. Neil Fisher, co-founder and head brewer of WeldWerks, said the library will be a destination that positively impacts companies all around the area.
"When we opened up, there wasn't much happening on that side," Neil Fisher said. "We were almost the northern gateway to downtown. It's gonna be even more exciting to have a partner to anchor that northern part of downtown. We're excited about it as a driver for families and a more unique and innovative use of that space. It helps us all for that entire stretch of Eighth Avenue."
The library district is also proud of the fact that it didn't have to raise any additional public funds for the LINC project, Hortt said.
"For this project we didn't have to take out a loan or a bond," Hortt said. "We've been good stewards of our tax dollars, so we were able to pay for this without going into debt. We did this in a financially responsible way."
The LINC is projected to open in May 2023. When it does, the hope is that it injects more foot traffic into the area from which nearby businesses can benefit, Bianca Fisher said. Although businesses in the district are struggling with universal problems such as lack of workers and rising costs across the board, companies downtown are largely thriving.
Downtown has seen 13 new businesses open this year, Fisher said, and all of them are still open and doing well. Thirty-five new businesses have opened in the area since the start of last year.
The mix is diverse: Natural Grocers at 1320 Eighth Ave., Dutch Bros. at 1227 Eighth Ave., Sexy Sammies at 4318 Ninth Street Road. The latter is opening a second location downtown, as well. Austin's American Grill is planning to open a location. Existing businesses are also expanding; WeldWerks is in the midst of building a new expanded brewhouse that will dramatically increase its brewing capacity.
All of these are supported by a growing residential market that is adding a relatively new type of product to downtown Greeley, high end apartments, and helping ensure businesses have a consistent stream of customers.
"Foot traffic is harder because that is a slow roll for Greeley as a whole," Bianca Fisher said. "We're very fortunate to have a strong employee base downtown. We've got great daytime foot traffic. It has been a little bit more challenging in the evening, but that is changing because of the residential growth we've seen recently. That has been the missing piece for us."
Benjamin Snow, director of economic development for Greeley, said the Apartments at Maddie, developed by Richmark Cos. at 1540 Eighth Ave., were a major catalyst for bringing this type of residential product to downtown Greeley.
"When The Maddie opened, it was not the ideal timing to bring 210 high-end luxury apartments to the market during the pandemic, but they have done a phenomenal job," Snow said. "They deserve a ton of credit for aggressively leasing those out. They've been great. It's great to see the vibrancy downtown."
Other projects are following close behind. The 55+ Resort at 1100 Eighth Ave. will bring luxury senior living into the area — as well as the new Austin's location. Indianapolis developer Milhaus is planning to redevelop the former Gallery Furniture building at 1028 Eighth Ave. into a seven-story, 250-unit apartment tower. Further down Eighth Avenue, the former Good Samaritan Society's Bonell Community at 704 22nd St. is also being redeveloped into a 295-unit apartment complex.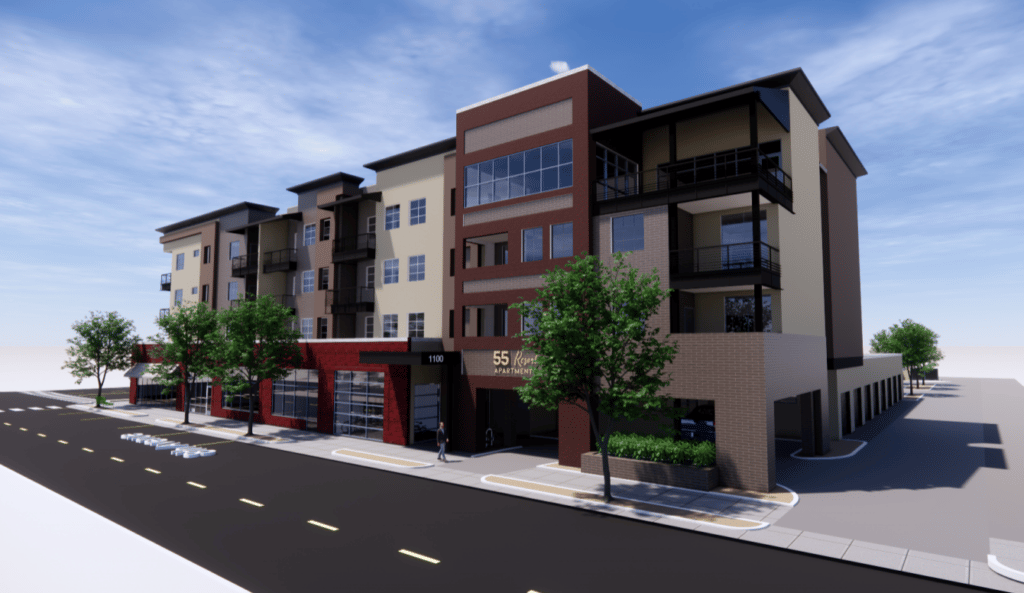 Neil Fisher said that increasing that critical mass of residential development downtown has already benefited downtown businesses, and that bringing more residential to the area, potentially even north of Fifth Street along Eighth Avenue, will only increase the vitality of downtown.
"Our hope is that as more residential becomes developed downtown, we get more and more of that steady daily foot traffic," Neil Fisher said. "There are more people staying downtown in addition to it being just a destination. There are more people just doing life downtown, which is a net positive for the entire community."
To facilitate the increased foot traffic between the residential and commercial areas of downtown, the city is engaging in public improvements designed to make downtown more friendly to cyclists and pedestrians and make it easier to walk or bike between the downtown core and the University of Northern Colorado campus.
"The interplay between campus and the amenities and restaurants downtown is powerful," Snow said. "We look at that as a catalyst to make it more friendly and walkable. This will slow traffic down and create a more pedestrian-friendly environment."
One major component of this is improvements to the 16th Street corridor between Seventh Avenue and 11th Avenue that could be underway as early as 2024. That stretch is a four-lane road with a speed limit of 25 miles per hour. It sees about 250 pedestrian crossings and 12,000 vehicle trips per day.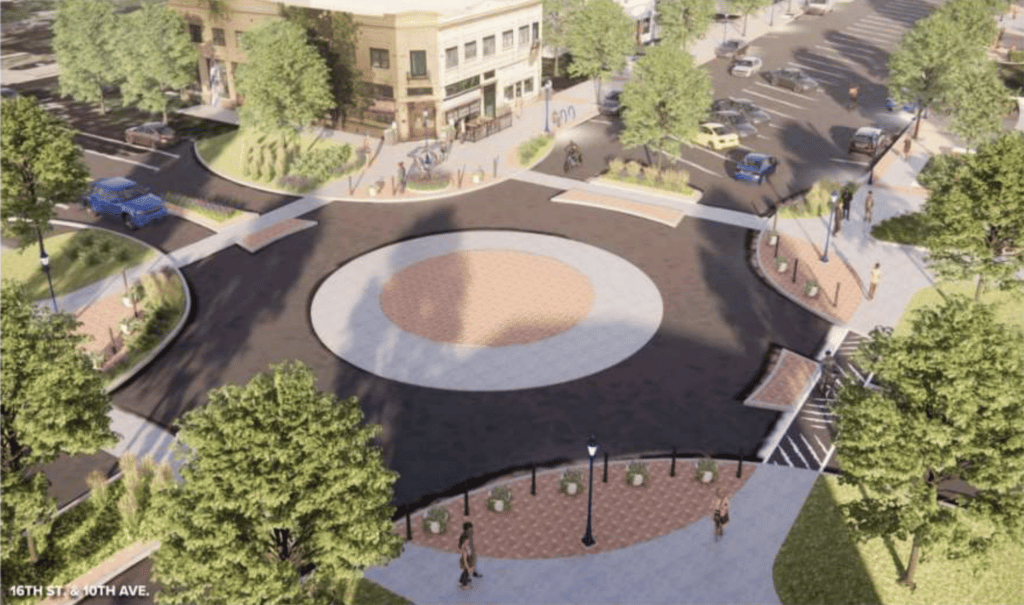 The preferred plan that emerged from public comment sessions calls for replacing the diagonal parking along 16th Street with center parking, widening the sidewalks and intersections, installing more trees and landscaping, as well as replacing the traffic lights at Ninth and 10th avenues with roundabouts.
The city is also developing a downtown master plan that will lay out a roadmap for how the city can make public improvements and continue to develop the district in a way that it continues to grow, including finding better uses for parking lots and spurring development in the eastern part of downtown.
In the meantime, downtown Greeley is becoming ever busier and more vibrant.
"I look at our district like a barbell," Bianca Fisher said. "The historic downtown is one weight, and the university is the other. Eighth Avenue is the bar that holds them together and raises them up. Those areas need to get built out to their full potential."
Source: BizWest