Amazon to take delivery of Loveland facility in August
LOVELAND — Trammell Crow Co., the Dallas-based company that is building the new Amazon warehouse in northeast Loveland, expects to turn over the facility to Amazon.com Inc. (Nasdaq: AMZN) in August this year.
The project, now described as a 3.5 million-square-foot facility built in four stories, began in March last year.
While Seattle-based Amazon has curtailed work on some new construction across the country, it hasn't on this one, said Sam Bailey, manager of economic development policy for the company in seven western U.S. states. Bailey and Becca Dickenson, development manager for Trammell Crow on the Loveland project, spoke to a group of real estate professionals gathered Tuesday night at the ReMax Alliance Commercial office at 6028 Stallion Drive in Loveland.
"When we went into COVID," Bailey said, "we doubled our real estate in two years." The pandemic, the lockdowns and the work-from-home practices of that period caused a huge increase in online buying with Amazon reaping the benefits. But the end of the pandemic caused the company to reconsider its expansion strategy. "We have had some projects canceled, but not this one," he said.
That's because Northern Colorado is in the path of the company's growth.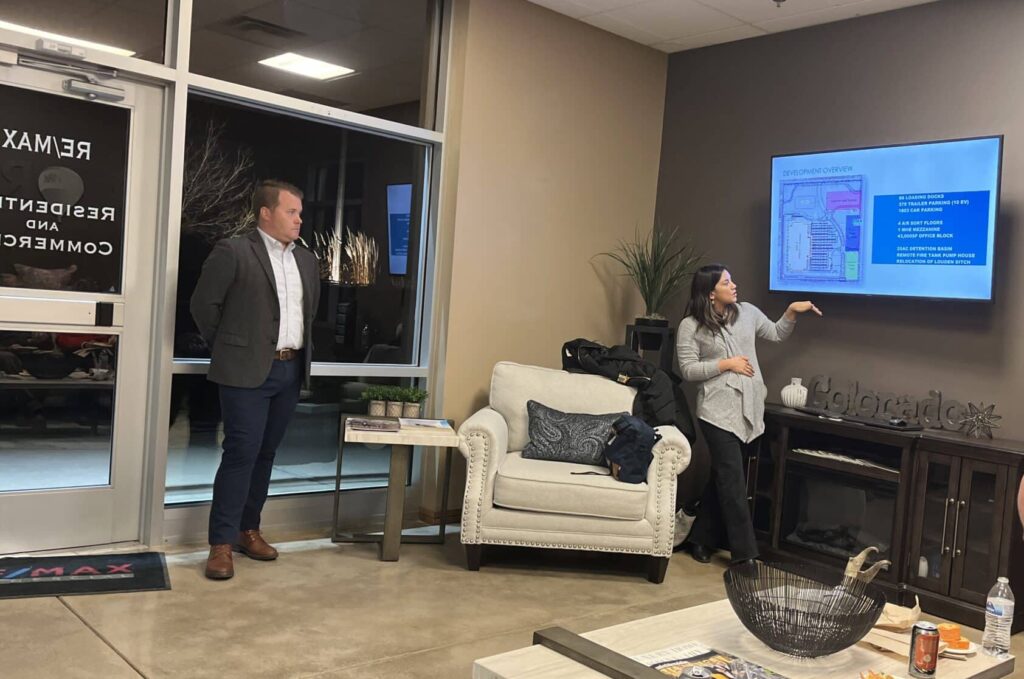 "We're customer-obsessed. We're growing north and east. This facility will serve not only Northern Colorado but also Wyoming, Montana and places that don't support having a facility like this."
The building has come with a cost. Becca Dickenson, development manager for Trammell Crow Co. on this project, said the construction cost is expected to be about $400 million. A similarly sized facility in Colorado Springs that opened in September 2021 cost $250 million to build, Dickenson said.
The cost increase has come because of inflationary pressures brought about by supply-chain disruptions and other causes. Bailey acknowledged that Amazon has discovered that it is competing against itself sometimes when two major construction projects compete for steel and other materials.
The Loveland facility, designated as DEN9 in Amazon terminology, is not the last stop for products that people order online. Instead, it fits somewhere in the middle. Another Loveland facility, called DDE8 and located in the industrial buildings that McWhinney Real Estate Services Inc. built just south of the Northern Colorado Regional Airport in Centerra, is the final stop before the blue Amazon trucks venture into neighborhoods to deliver. Bailey said that all materials stored and fulfilled from the new DEN9 will arrive and leave by semi truck.
DEN9 has 66 loading docks, Dickenson said.
The Loveland facility will handle packages weighing 50 pounds and less; larger items such as televisions are shipped from the Aurora warehouse, which is called DEN2. That warehouse supplies all 50 states. It is located at Interstate 70 and E470.
Amazon uses a proprietary system to organize its inventory and facilitate delivery. Customers often receive products the next day and, Bailey said, depending on the item ordered and the location of the customer, fulfillment can occur as rapidly as 25 minutes from order.
The upper floors, called AR or Amazon Robotics floors, where robotic retrieval of inventory occurs, are similar in organization with products and their quantities stored based upon geography and demographics. Snow shovels, Bailey said, aren't stored in Miami, for example.
Using Harry Potter books and products as another example, he said those products would be dispersed within each warehouse facility and not stored on the same shelving unit. That's because if the company experiences a run on ordering of a single product it would take longer to fulfill if the robotic retrieval system had to go to one location instead of simultaneously to multiple.
Bailey said DEN9 will hire between 1,200 and 1,500 workers at its opening; he would not project what peak employment might be in Loveland. Dickenson said about 350 workers were on the site at the peak of its construction.
Bailey told Realtors not to expect to sell a lot of houses as a result of the hiring spree that will occur in the next several months. That's because workers likely are already living in the region.
He said workers will come mostly from Larimer, Weld and Adams counties, and maybe Wyoming. The starting wage will be $19 or $20 per hour. Employees receive health insurance coverage from the first day of work and have access to continuing education. "We'll pay for associate or bachelor's degrees. We're a workforce-development asset," Bailey said.
He said hiring is less of an issue than long-term retention. "When people get their degrees, they move on," he said, referencing the economic mobility that the company creates among its workforce.
The facility will result in increased traffic in the area around it. Dickenson said a traffic study predicted a 20% increase in semi traffic at some points during the day. Bailey said to some degree, trucks coming from Denver warehouses on the interstate will be replaced by trucks moving locally.
Air freight movement will continue to use Denver International Airport, and not Northern Colorado Regional Airport. The NoCo airport "is not in the long-term plans for cargo," Bailey said, noting that DIA serves the entire state.
Last-mile drone delivery is also not in the immediate plans. "It's efficient to put 500 or 700 boxes in a van to deliver," Bailey said. "We're moving conservatively on that," he said of the use of drones. "There will not be drones flying out of this site."
Source: BizWest